Los Angeles — In coming weeks, a cavalcade of behemoth cargo ships loaded with everything from toys to cars will descend on the twin ports of Los Angeles and Long Beach.
Last year, the annual spike in summer shipments overwhelmed the largest U.S. port complex, along with the trucking and rail systems that move goods from the docks throughout the country.
Shipments were delayed and some retailers were left looking for long-overdue deliveries just weeks before Christmas.
This year, the ports are bracing against another tidal wave of imports from the Far East with an ambitious strategy to move nearly half of the cargo at night and on weekends.
The OffPeak initiative, set to begin July 23, is seen as an essential step to keep the ports ahead of an onslaught of cargo that officials expect will triple over the next 20 years. Cargo volume at the L.A.-area ports is expected to increase 12 percent this year over 2004, according to the Pacific Maritime Assn., which represents the ports' marine terminal operators.
"We have an awful lot of trucks coming and going. We need to spread these trucks over more time," said Bruce Wargo, president and chief executive of PierPASS Inc., the company formed by marine terminal operators to run OffPeak.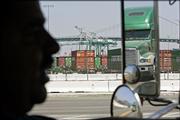 The program, however, has sparked complaints by many independent truckers and their clients - shippers who will now be charged as much as $80 by PierPASS for each cargo container retrieved during peak, daytime hours.
Even if those shippers agree to take after-hours deliveries, they could end up paying more to trucking firms that say they need to hike fees to cover nighttime operations and reward drivers who take the unpopular shifts.
"We have some really sizable clients that are going to resist that vehemently," said Richard Coyle, president of Devine Intermodal, a trucking firm headquartered in Sacramento.
"Trying to induce the trucking industry into a nighttime operation by way of penalty is wrong," he said.
For years, the marine terminals only resorted to nighttime hours if a special request was made by a shipper expecting a big delivery. But outsourcing and other factors have led to huge manufacturing growth overseas and a resulting jump in imports.
The ports of Los Angeles and Long Beach now handle 40 percent of all cargo shipped into this country, and 80 percent of the imports from Asian manufacturing powerhouses such as China and India. In November, the height of last year's peak cargo season, some 16.1 million tons of cargo moved through the two ports, according to the PMA.
Copyright 2018 The Associated Press. All rights reserved. This material may not be published, broadcast, rewritten or redistributed. We strive to uphold our values for every story published.