Norman, Okla. — Longtime Wichita State baseball coach Gene Stephenson was hired as the new coach at Oklahoma on Sunday, succeeding Larry Cochell, who resigned last season after using a racial slur during off-camera interviews.
The 59-year-old Stephenson, who ranks second in Division One career victories, returns to the program for which he was a recruiting coordinator and hitting instructor for five seasons in the 1970s. He replaces former Oral Roberts coach Sunny Galloway, who took over as interim coach when Cochell resigned May 1.
Cochell, who won more than 500 games and the 1994 College World Series title in 14 seasons at Oklahoma, stepped down two days after using a racial slur during interviews with two ESPN reporters before a game against Wichita State.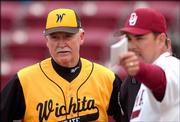 Stephenson, who officially will be introduced today, has a career coaching record of 1,506-489-3, second in victories to Texas' Augie Garrido (1,542). Stephenson's .754 winning percentage is the best among active coaches with at least five years at the Division One level.
"The hardest thing I've had to do my whole life is leave Wichita State," said Stephenson, a native of Guthrie, Okla. "I poured my heart and soul into that program for 28 years. I always said there was only one job I would even consider, and I mean anywhere, and that's the University of Oklahoma."
Stephenson spent five years as an assistant for Enos Semore's Oklahoma teams that won five straight Big Eight Conference titles and made the NCAA Tournament each season. Stephenson left Norman in 1977 to take over a Wichita State baseball program that had been dormant for seven seasons.
Stephenson guided the Shockers to a 65-win season in 1979 and their first NCAA Tournament appearance in 1980. It was the first of 23 NCAA Tournament appearances for Wichita State, which won the College World Series in 1989.
Copyright 2018 The Associated Press. All rights reserved. This material may not be published, broadcast, rewritten or redistributed. We strive to uphold our values for every story published.