Kansas City, Mo. — A small round ball and a ragged piece of wood went flying toward Mark Teahen.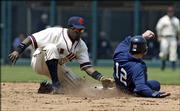 Was the rookie third baseman distracted? He refused to say. But he did mishandle Torii Hunter's broken-bat grounder with two out in the 12th as Nick Punto scored the go-ahead run Sunday in Minnesota's 3-2 victory over Kansas City.
"Yeah, the ball and bat were coming my way," Teahen finally said upon persistent questioning. "Both of them were right in front of me, so I guess I could see both of them. I can make a million excuses about it, whatever. It doesn't matter. It doesn't change it."
Mike Sweeney, who heads into the All-Star game on an 11-for-15 tear, had two solo home runs.
Sweeney homered off Carlos Rincon in the fourth and then, in a battle between All-Stars in the ninth, hit a second homer off Joe Nathan to tie it at 2.
The homer broke a string of 12 consecutive saves for Nathan, who started the ninth and had converted 26 of 28 save opportunities.
"We were battling. It was two bulls locking horns," Sweeney said. "I knew he wasn't going to walk me. I'm just happy I got a chance to keep us in the game."
Sweeney also had a single and was 3-for-5 after going 5-for-6 the night before. Since April 30, he's hitting .337.
"It was a heartbreaking loss," he said. "The tough part is going away on the losing side."
Copyright 2018 The Associated Press. All rights reserved. This material may not be published, broadcast, rewritten or redistributed. We strive to uphold our values for every story published.