Members of the Lawrence Horseshoe Club meet every Thursday evening at Broken Arrow Park to hit the pits and perfect their game before the next big tournament. Journal-World photographer Scott McClurg joined them during a few recent practice sessions.
Photo Gallery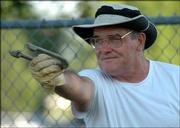 Pitch perfect
Get involved
The Lawrence Horseshoe Club meets at 7 p.m. each Thursday at Broken Arrow Park, 31st and Louisiana streets. The club welcomes new members of all ages. Membership dues are $10 per year. Avoid wearing open-toe shoes, and bring your own horseshoes. For more information, call Priscilla Hedges at 830-8040.
Copyright 2018 The Lawrence Journal-World. All rights reserved. This material may not be published, broadcast, rewritten or redistributed. We strive to uphold our values for every story published.