Along Interstate Highway 80 — Squinting in the midday sun, Teri Knight scans the curtains of green fields that border this highway in search of clues that could lead her to a terrible place: the grave site of her murdered children.
She believes her son and daughter are buried out there, somewhere among tens of thousands of anonymous acres. Maybe here in Illinois, maybe another state. For two years, she has been haunted by the same question:
Where?
On a July day in 2003, authorities say, Knight's ex-husband shot and killed their daughter, Sarah, 14, and son, Philip, 11. Manuel Gehring told police in New Hampshire he wrapped his children in plastic and placed duct-tape crosses on their chests.
Then, he said, he dug a shallow grave for them somewhere along this concrete artery than runs through the heart of middle America.
Police drove Gehring along I-80 shortly after the murders to look for the L-shaped grave. But he couldn't find it. Neither could law enforcement officers or dedicated volunteers who searched a 650-mile stretch from Pennsylvania to Ohio to Indiana to Illinois to Iowa - the area where he's believed to have buried the children.
Retracing I-80
Last week - just a few days after the two-year anniversary of her children's disappearance - Knight came to look for herself.
She retraced Gehring's path along I-80, but the purpose of her six-day search was to raise public awareness, rather than an attempt to do the seemingly undoable: find an unmarked burial site.
"I would love to say that I could have some instinct and we'd drive right to some place and find them," Knight says. "But I can't leave my hopes there. I have to be realistic."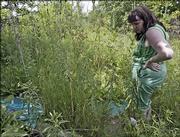 So Knight and her second husband, Jim, trailed by a small group of reporters, drove the route in a blue Chevy Suburban displaying this sign on the passenger side: "Help Us Find The Kids, philipandsarah.com."
They stopped at places where Gehring had been, they left fliers at convenience stations, they scouted fields that fit the general description he had provided police. And they wore plastic badges near their hearts, each with a photo of the two smiling children.
Knight hopes word of her search will pique the public's attention and produce a tip that will allow her to bring her children home.
"This is my chance," she says. "I need to do this. It's not like I feel like I'm doing something weird. ... What mother wouldn't want their children buried near her or want to know their final resting place is? It's just what they deserve."
General clues
On Day 2, Knight stopped in Joliet, Ill., near a Citgo station, where Gehring had purchased gas. Then a private investigator drove her to a weed-strewn dumping ground, where she wove through bushes and poked at garbage bags. But the area was near an electrical tower and railroad tracks - and that didn't match Gehring's description.
Gehring had drawn a rough sketch of the burial site and said it was off an I-80 exit in the Midwest amid tall grass. A 6-foot-high metal fence, an old water pump, a yellow or tan commercial building, firewood, large slabs of concrete, five or six large trash-filled cement construction cylinders, a pile of white or gray rocks and willow-like trees were nearby.
Those general clues would be all he'd provide: Gehring, 44, committed suicide in jail in February 2004, while awaiting trial. At the time of the killings, Gehring had lost his accountant's job and apparently feared he'd also lose custody of the kids to Knight, who had just remarried. They had divorced in 2001 after a 16-year marriage.
In the past two years, Knight has studied satellite and topography maps, programmed her laptop with an I-80 map and pieced together a timeline of her ex-husband's travels based on credit card receipts.
'More frustrated'
She has listened, too, to Gehring's confession, sitting in the New Hampshire attorney general's office, her ear pressed against a tape-recorder, hearing him speak softly and calmly about the disposal of her children's bodies.
"I thought I'd walk out of there knowing something that nobody else knew," she says. Instead, she adds, "I was more confused and more frustrated."
Gehring was last seen with his children at a July 4th fireworks celebration in Concord, N.H. Witnesses say the kids were crying as they climbed into his minivan.
Six days later, Gehring was arrested in California. Blood, bullet holes and human tissue were found in his Pontiac van.
Authorities believe Gehring buried the children after he bought a pick ax, shovel, gloves, duct tape and garbage bags on July 5, 2003, at a Wal-Mart in Grove City, Pa., and before he arrived the next day at a camp ground in Iowa City, Iowa.
Some investigators say pollen found in his van indicates the murders occurred in Ohio or east of there. But Gehring's confession, according to Knight, suggests he killed the kids 1 1/2 to 2 hours east of Iowa City.
No peace
Knight, 43, a nurse and mother of 19-month-old twins, says the impact of her immeasurable loss changes as time passes.
"You start to miss different things," she says wistfully. Her daughter, Sarah, a cheerleader, would be entering her senior year. Her son, Philip, who liked acting, would be starting high school.
Every time she looks at daughters Molly and Mallory, "I think what would have been like if Sarah and Philip would have been around?" she says. "One of my jokes is Philip would have had a perfect girl magnet because these baby twin sisters are absolutely beautiful. Every teenage girl would love to come over. You know, that's part of the whole process - realizing that's not what we have."
The sun is setting when Knight reaches her final stop of the day - the Iowa City campground Gehring visited, perhaps to clean off in the lake.
Knight wonders how he found this place. There were no signs on the highway and he had never been in the Midwest. Gehring, she says, didn't even like to swim in lakes.
It is a soft summer night with boaters on the shimmering water and swimmers splashing about, but there's no peace for this mother. She rubs her girlish face in weariness.
She recalls hearing about another child, whose remains were found after 30 years. "How can people go on that long?" she asks. "I don't know. What's it going to feel like in two years and two months? I don't know."
This day, she says, has left her only with new questions.
"We're going to come up with some of these answers," her husband, Jim, says reassuringly.
"If not us," she replies, "someone else will."
They walk off hand in hand, with many more miles to go.
Copyright 2018 The Associated Press. All rights reserved. This material may not be published, broadcast, rewritten or redistributed. We strive to uphold our values for every story published.