Monsignor Vince Krische received a fond farewell and a big surprise during an emotional sendoff Sunday at the St. Lawrence Catholic Campus Center, where he worked and lived over the past 28 years.
"I think it's been a thrilling day," said Mary Elizabeth Debicki, one of the organizers of the event along with the center's staff. "It's bittersweet, because none of us want him to go."
Krische, who is being transferred to St. Ann Catholic Church in Prairie Village, was honored during an afternoon reception on the lawn of the center attended by nearly 700 people, organizers said.
But Krische's name will be forever linked to St. Lawrence. The center's building is officially being named Krische Hall, a step that has been approved by Archbishop Joseph F. Naumann, head of the Archdiocese of Kansas City in Kansas.
"This is very, very humbling," Krische said after hearing the announcement. "I'm a little at a loss for words."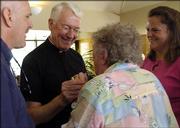 Krische also was presented with a large, gallery-size color photograph of the center with black letters spelling out "Krische Hall" superimposed on an outside wall of the center. The real letters should be in place in about a week, Debicki said.
Prior to the reception, Krische performed his last Mass at the center. It was an emotional moment, he said later.
"I did better than I thought I would," Krische said. "It's sad to say goodbye."
Krische, who is still most often referred to by friends, Kansas University students and former students as "Father Krische," said he was amazed at the number of people who came to see him off, including some he hadn't seen in years.
Krische influenced untold numbers of students who came to the center, including recent graduate Eric Buschelman.
"The young people at the center are his sheep, and he is their shepherd," Buschelman said.
Aaron Wilcott, Leavenworth, another recent graduate, expressed similar sentiments.
"He is the most genuinely generous person I've ever met," Wilcott said. "He's the most selfless person I've ever met. That's a good role model not only for me, but I can see it as a good role model for everybody."
Emily Davis graduated from KU three years ago but came back to pay tribute to Krische. The Lenexa woman said she'd learned a lot from him and his "amazing gift of faith."
"It is because of the attitude that permeated this place that I was able to go to Rome this past year and study and serve the church," she said. "I wouldn't be where I am without him and the center."
Charlie Himmelberg, now retired after serving as the longtime chairman of KU's math department, spoke of Krische's tireless efforts at building St. Lawrence into the influential and respected Catholic center it is today.
"We're very grateful for Father Vince's persistent faith and his vision for the St. Lawrence Center, which he fulfilled despite of what seemed like insurmountable financial obstacles," Himmelberg said.
Copyright 2018 The Lawrence Journal-World. All rights reserved. This material may not be published, broadcast, rewritten or redistributed. We strive to uphold our values for every story published.