Luxembourg — Luxembourg approved the European Union's proposed constitution Sunday despite uncertainty over its future, prompting the nation's premier to say it had put the charter "back on the European agenda" after recent rejections.
Luxembourg's vote means a majority of the union's nations - 13 out of 25 - have approved the constitution. However, the bloc's leaders have frozen the ratification process after the charter was rejected by French and Dutch voters in late spring. The constitution needs unanimous approval to take effect, and leaders in France and The Netherlands have said they will not hold a second vote.
But Prime Minister Jean-Claude Juncker insisted the constitution was not dead after 56.52 percent of voters in Luxembourg approved it. Officials said 43.48 percent voted against it.
"If Luxembourg had voted 'no' today, that would have been the final shot in the head for the constitution," Juncker said. "As Luxembourg has said 'yes' the process can go ahead."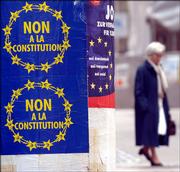 Juncker said Luxembourg had put the constitution "back on the European agenda," and he rejected widespread beliefs the treaty was all but dead because it had failed to pass in France and The Netherlands.
The charter was designed to provide such trappings of statehood as a flag, a president and an anthem for what has largely been an economic bloc, while creating a more integrated political entity of 450 million people with a bigger economy than America's.
Its opponents argue the constitution does not address growing concerns about unemployment and worry about loss of national control and identity to a stronger, unaccountable EU bureaucracy.
"After the 'yes' of several countries, the process will go its way and we will see the positions of the countries that said 'no"' at the end of the ratification period, Juncker said. He had said he would resign if his country rejected the constitution.
Copyright 2018 The Associated Press. All rights reserved. This material may not be published, broadcast, rewritten or redistributed. We strive to uphold our values for every story published.