Firefighters extinguished a car fire early this afternoon in a parking lot at 5020 Bob Billings Parkway.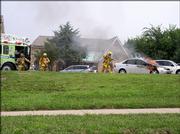 Lawrence-Douglas County Fire & Medical responded to the call at 12:19 p.m., Deputy Fire Chief Mark Bradford said. The car, a white four-door, was parked in the lot when someone noticed it was on fire.
Michael Kelly, Lawrence, was driving back to work from lunch when he saw the fire.
"It was just that one car, and I didn't see anyone in the car," he said. "I was going to call 9-11 but I saw that someone had already done that and I thought dang, maybe I should take a picture."
The cause of the fire was not known and there was no damage estimate available, Bradford said.
Copyright 2017 The Lawrence Journal-World. All rights reserved. This material may not be published, broadcast, rewritten or redistributed. We strive to uphold our values for every story published.