Miami — Derrek Lee and Greg Maddux sent the Chicago Cubs into the All-Star break on a high note.
Lee hit his 27th homer and drove in four runs, Maddux allowed four hits in eight innings, and the Cubs beat the Florida Marlins, 9-2, Sunday to complete a three-game sweep.
Chicago had lost eight in a row entering the series before earning its third series sweep of the season. The Cubs' last sweep was May 29-June 1, when they took three in a row in Los Angeles during their season-high, seven-game winning streak.
"We needed it," Maddux said. "It was pretty embarrassing in Atlanta. And to win three in a row here, it's going to make our vacation a lot better, that's for sure."
Lee hit a sacrifice fly in the fourth and homered for the second straight game after missing three straight starts because of left shoulder irritation.
Maddux (8-6) bounced back from a pair of losses with the best of his 19 starts this season. He had allowed 11 runs over 11 innings in his last two outings and had not gone beyond six innings in his previous eight starts.
Al Leiter (3-7) allowed six hits and six runs - five earned - in three-plus innings. Carlos Delgado hit a two-run homer in the ninth, his team-leading 18th, off Glendon Rusch.
Mets 6, Pirates 1
Pittsburgh - Carlos Beltran hit a two-run homer in the first inning to give Pedro Martinez the only runs he needed, and the Mets avoided a sweep.
Martinez (10-3) struck out four in the first two innings and nine overall in seven innings to win his eighth in 10 decisions.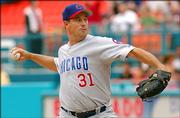 Pirates starter Kip Wells (6-9) gave up five runs and nine hits in five innings.
Brewers 8, Braves 4
Atlanta - Geoff Jenkins homered and drove in three runs, and NL leader Carlos Lee had two more RBIs, helping Milwaukee's Chris Capuano (10-6) beat Atlanta. Roman Colon (1-5) took the loss.
Astros 6, Dodgers 5
Houston - Brad Ausmus snapped an eighth-inning tie with an RBI single, and Houston rallied from four runs down to sweep the three-game series.
Russ Springer (2-3) pitched a hitless eighth for the victory.
Phillies 5, Nats 4, 12 inn.
Philadelphia - Ryan Howard hit a tying two-run homer in the eighth, and pinch-hitter Ramon Martinez drove in the winning run in the 12th for Philadelphia.
Padres 8, Rockies 5
Denver - Brian Giles tripled and drove in three runs, and Ramon Hernandez had two RBIs to lead San Diego. Paul Quantrill (1-0) pitched 22â3 scoreless innings of relief to earn his first victory in his third outing with the Padres.
Diamondbacks 2, Reds 0
Phoenix - Tony Clark broke up a scoreless game with a seventh-inning home run for Arizona. After Clark's two-out solo shot, Shawn Green doubled, and pinch-hitter Luis Terrero lined an RBI single. That ended what had been a superb outing for Eric Milton (4-10), who had allowed only two hits in 62â3 innings.
Cardinals 4, Giants 3
San Francisco - Jeff Suppan (9-7) pitched into the seventh, had two hits and drove in a run to help St. Louis. Einar Diaz drove in two runs as the Cardinals won for the sixth time in eight games. Their 111â2-game lead over Houston is their largest ever at the All-Star break.
Copyright 2018 The Associated Press. All rights reserved. This material may not be published, broadcast, rewritten or redistributed. We strive to uphold our values for every story published.