A two-alarm fire that caused "significant damage" to a third-floor apartment Sunday night is under investigation by Lawrence-Douglas County Fire & Medical.
No residents were injured in the fire that caused the evacuation of a three-story building at Village Square Apartments, 1500 W. Eighth Terrace, Fire & Medical Deputy Chief Mark Bradford said. One firefighter was treated at the scene for heat-related complications.
The fire originated in apartment No. 86, Bradford said.
A woman who said she was in the top floor apartment where the fire broke out suffered some scratches while getting two cats out of the building, she said.
The woman, who declined to give her name, said she and her boyfriend were watching a movie when she saw an orange light and then found flames in the ceiling over the kitchen. She said they expended three fire extinguishers trying to put the fire out.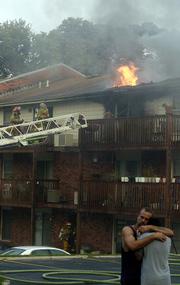 Firefighters were notified of the fire at 7:47 p.m. after a 911 call was made to the Douglas County emergency communications center, Bradford said. The first fire unit arrived at 7:51 p.m.
"Heavy smoke was showing from the balcony side of the apartment," Bradford said.
Fire investigators were trying to determine whether the fire started outside of the apartment on the balcony or inside the apartment, Bradford said.
One other apartment sustained smoke damage and two apartments sustained water damage, Bradford said. The occupants of the damaged apartments were finding other places to stay Sunday night and had declined assistance from the city or the Douglas County chapter of the American Red Cross, he said.
Damage estimates had not been determined Sunday night.
Lawrence Police blocked a section of Ninth Street so that fire units could hook up to a hydrant on the south side of the street and run a hose across to the north into Village Square.
Copyright 2017 The Lawrence Journal-World. All rights reserved. This material may not be published, broadcast, rewritten or redistributed. We strive to uphold our values for every story published.