Ricky Edwards' plan to emerge from homelessness includes homemade cookies and biscotti.
Hey, it is a better plan than he had just a few months ago. Edwards is the first, and thus far, only salesman for Melting Pot Cookies and Biscotti, a Lawrence-based company that seeks to use homeless residents to market cookies and other sweets at area farmers markets.
For Edwards, a former farmhand who has been staying at the Lawrence Community Shelter since November, it may be the break that could give him just enough money to get back on his feet.
"I'm like a lot of people down here who want to do a job but the job doesn't want them because of the bad reputation of the homeless," Edwards said. "If you don't have an address, you don't get a job in this town. It's that simple."
The cookie project is one of four new initiatives at the Lawrence Community Shelter, 944 Ky., aimed at helping residents break into the job market.
Rocks and paper
Other projects include a new partnership with Cottonwood Inc. to bring a job coach to the shelter, a shelter-run business to sell "welcome rocks" to homeowners and businesses, and a program that would have shelter residents walking up and down Massachusetts Street with a sign seeking donations for a homeless-produced newspaper called Change of Heart.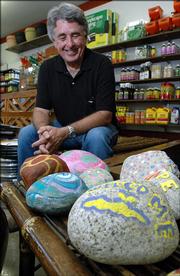 "I think this is going to be just what the doctor ordered in a lot of cases," said Loring Henderson, executive director of the shelter.
Henderson said the partnership with Cottonwood may be the most significant new program at the shelter. He said Cottonwood, which is a Lawrence-based nonprofit provider of career assistance to people with disabilities, would provide a job coach for about five shelter residents who have shown a desire to work. The program - which received about $15,000 in grants from Tensie Oldfather, the Easterday Foundation, the Good News Fund and the First Presbyterian Church - would also include a job support group led by a licensed social worker to discuss problems that come up in the work place.
"A lot of times we'll have people start the job search and then get discouraged going through all the ads or they'll get discouraged in the interview process," Henderson said. "The job coach will get them through that and help them show their best side."
Breaking barriers
The most visible new program at the shelter may end up being the proposed newspaper project. Henderson said he envisioned within the next week or two that homeless residents would begin walking up and down Massachusetts Street wearing a button that sought donations to buy the homeless-produced newspaper.
Henderson said the individuals would be asking for $1 donations, with 75 cents of the money going to the homeless resident selling the paper and 25 cents being used to pay for producing the quarterly paper.
City Manager Mike Wildgen said the idea seemed to comply with all city regulations, as long as the individuals don't seek donations in a way that would violate a recently approved ordinance banning aggressive panhandling. Wildgen said city staff members would watch to see how the program worked.
"We haven't seen it in operation yet, and it is the type of thing that you don't want to prejudge," Wildgen said.
Henderson said the vendors would all sign contracts that would include language on how they are expected to behave. Other details about how often they would seek donations or how many individuals would participate are still being determined, Henderson said.
Maria Martin, executive director of Downtown Lawrence Inc., said merchants wanted to learn more about the program. But she said they applauded efforts by the shelter to help homeless residents enter the working world.
The fourth program in the works involves selling "welcome rocks." Henderson said the program would take rocks donated from nurseries and other sources, paint them with either the word "welcome," or with the last name of a family. The rocks would be sold for a donation to homeowners, businesses or real estate agents who would include the rocks as part of a welcome basket to their clients.
"I know it sounds kind of crazy but it has worked in some other parts of the country," Henderson said.
The cookie project that Edwards is involved in is more traditional in nature. Dianne Morgan, the coordinator for the Lawrence Interdenominational Nutrition Kitchen, bakes the cookies out of her home and turns them over for Edwards to sell. Currently, the cookies are sold on Tuesdays and Thursdays at the Lawrence Farmers Market. The pair is hoping to soon include Saturday sales at the Topeka Farmers Market.
Morgan said she hoped the business would take off enough that it could provide people like Edwards about $50 a week in income. Edwards said the money could be enough for him to cover some living expenses if he is accepted into a rent-subsidized apartment unit.
Morgan, who also volunteers at the Lawrence Community Shelter, said, if nothing else, the project would give homeless residents a greater sense of self-worth.
"We need to do everything we can to help break down barriers and that is one of them," Morgan said.
Copyright 2018 The Lawrence Journal-World. All rights reserved. This material may not be published, broadcast, rewritten or redistributed. We strive to uphold our values for every story published.