A Douglas County judge's decision to overturn a nearly decade-old murder conviction hinges on one piece of evidence: a letter written by a jailhouse informant in 1996 that purported to describe a confession overheard in jail.
The significance of the letter - and the fact the inmate who wrote it later changed his story and denied hearing a confession - was the key issue Judge Michael Malone considered before deciding late last month to vacate the conviction of Damon L. McCray, 32, in a shooting outside a local nightclub.
Ultimately, Malone decided McCray was denied a fair trial because prosecutors failed to notify McCray's defense attorney when they learned that the inmate who wrote the letter, Jeremy Rhoads, had recanted.
"A reasonable probability exists that if Rhoads' recantation had been disclosed ... the result could have been different," Malone wrote. "Therefore, confidence in the final verdict is undermined."
The letter
McCray, of Topeka, was charged in the August 14, 1996, shooting of fellow Topekan Onzie Branch outside Langston's Nightclub, 806 W. 24th St.
Although a friend of McCray's testified that McCray made statements about the shooting and was in the area when it happened, there were no eyewitnesses. There was no confession to police, and no murder weapon was recovered. One of the strongest pieces of evidence was that police found one of McCray's handprints on a vehicle in the parking lot near Branch's vehicle.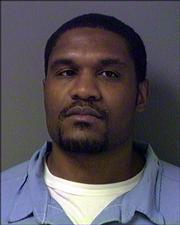 Another piece of evidence was that, before trial, a jail inmate named Ed Mason came forward saying he had heard McCray confess to the shooting. According to court records, Mason had literacy problems so he asked another inmate, Rhoads, to write a letter on his behalf describing the confession.
Story changes
When McCray's first trial came around in late 1996, prosecutors called Mason as a witness, and he described hearing the confession.
"He was the only witness who expressly stated that McCray admitted to doing it. It was kind of the heart of their case," said Jessica Kunen, a defense attorney who represented McCray as he sought a new trial.
To supplement Mason's testimony, then-Dist. Atty. Christine Kenney also planned to call Rhoads as a witness so he could describe writing the letter. When Rhoads arrived at the courthouse, he claimed to Kenney that what he had written in the letter was a lie and that Mason had asked him to make it up.
Kenney decided not to call Rhoads as a witness, and her office didn't inform McCray's trial attorney that Rhoads had changed his story.
McCray's first trial ended in a hung jury. At the second trial, prosecutors couldn't find Mason, so the judge allowed attorneys to let jurors hear a transcript of Mason's testimony at the first trial.
Jurors found McCray guilty, and he received a life sentence.
Case disputed
It wasn't until 2001 - when Rhoads wrote another letter, this time to McCray - that McCray learned Rhoads had changed his story about hearing McCray's alleged confession.
That prompted McCray to file a motion seeking a new trial based on a claim that prosecutors withheld exculpatory information in violation of his constitutional rights.
Kenney said she wasn't trying to hide anything by not telling the defense that Rhoads recanted his story. She just didn't think it was important enough to warrant telling the defense attorney, and she moved on.
"I never even considered (Rhoads) again, and I just did not think about the conversation that had occurred. That's it," she said. "I think, frankly, that disclosing it would not have made any difference in the case."
But Kunen, McCray's attorney, argued that the case could have turned out differently if defense attorneys had known there was someone contradicting jailhouse informant Mason - the only witness who testified to hearing McCray confess.
Kunen said she could understand Kenney's office forgetting to mention it during the first trial.
"By the time of the second trial, I don't think there's any excuse," she said.
Malone sided with Kunen. He wrote that it didn't appear Kenney intentionally withheld the information. But he said "there appears to have been a lack of awareness as to the importance of the disclosure."
If Rhoads had been called to testify, his differing version of events "could have created reasonable doubt in the minds of the jury," Malone wrote.
Dist. Atty. Charles Branson's office has not yet decided whether to try McCray's case again or to appeal Malone's ruling. He is expected to be brought from prison back to Douglas County in coming weeks to tentatively schedule a new trial.
Copyright 2018 The Lawrence Journal-World. All rights reserved. This material may not be published, broadcast, rewritten or redistributed. We strive to uphold our values for every story published.