Dearborn, Mich. — Tom Watson shot a 66 Thursday morning in the first round of the Senior Players Championship, then said he wouldn't be surprised if he lost his lead.
About an hour later, he did.
Graham Marsh took the lead with an 8-under 64 - bogeying 18 to miss tying the course record - at the Champions Tour's second major.
"There would be days you could shoot a 64, and you'd walk off the golf course and say it's the best round of golf you've ever played," said Marsh, who hadn't shot a 64 since 1999. "Today, I wouldn't say that.
"Everything was in the golfer's favor this morning. No wind. Perfect weather. Greens, superb condition. What more could you ask for?"
The field of 78 proved that, averaging 70.96, a first-round record at The TPC of Michigan.
Isao Aoki, Ron Streck and Watson were two shots off the lead, while Dana Quigley, Jim Ahern and Wayne Levi shot 67s and were three behind Marsh. Hale Irwin was in a pack of nine at 68.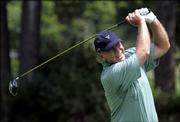 Watson, who won eight majors on the PGA Tour, overcame his putting problems with accurate approach shots, leaving him six feet or closer on each of his seven birdies.
"I hit the ball very close to the hole and had a lot of short birdie putts," he said. "But my stroke isn't very good."
Streck seems still to have his stroke from tee to green, after becoming the first player to win a tournament on the PGA Tour, the Champions Tour and the Nationwide Tour by winning the Commerce Bank Championship last week.
Quigley endured a hip ailment well enough to put together a solid round, extending his playing streak to 264 consecutive events - 278 in a row when eligible.
The Champions Tour money leader said his run might end after this week because the next stop is the Senior British Open. Quigley is not sure he can endure the seven-hour flight and a four-hour drive to the course in Scotland and says he won't decide until the end of next week.
"It always feels good on the golf course," Quigley said. "When I'm standing up, I'm OK. The acid test comes when I sit down for dinner.
"I'm very proud of the streak, so I'll be very disappointed if I have to break it."
Copyright 2018 The Associated Press. All rights reserved. This material may not be published, broadcast, rewritten or redistributed. We strive to uphold our values for every story published.