New York — Surprisingly calm investors pushed stocks modestly higher Thursday, helping Wall Street recover from steep early losses after the London terror attacks that killed at least 40 people and injured more than 700.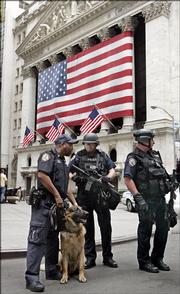 Investors took heart after the homeland security secretary said there was no "specific credible evidence" of a pending attack in the United States. A sharp drop in oil prices also helped the markets rally.
Traders said the timing of the London attacks, several hours before the start of trading in New York, allowed investors to overcome any knee-jerk reactions to the news. Jay Suskind, head trader at Ryan Beck & Co., noted that buy orders quickly entered the market as stocks sold off at the opening bell, and the markets made steady gains throughout the day.
"Unfortunately, this is the world we live in now," Suskind said. "Five years ago, the market would have been down much more. Now, we see it as a buying opportunity. There's no panic."
The Dow Jones industrial average climbed 31.61, or 0.31 percent, to 10,302.29. The Dow had fallen more than 103 points in the first hour of trading. The major indexes opened about 1 percent lower, but climbed steadily through the session, jumping higher around noon as Homeland Security Secretary Michael Chertoff commented that there was no evidence of a terrorist threat in the United States.
Security in demand
The Associated Press Investors jumped to buy shares of companies that sell biometric technology, video surveillance and other security services after Thursday's bombings in London. Among the top performers were surveillance companies such as Magal Security Systems Ltd., an Israeli company whose customers include governments and military agencies. It surged 13 percent to close at $8.90 on the Nasdaq Stock Market. American Science and Engineering Inc., a provider of X-ray detection, gained 11 percent to $48.04. Verint Systems Inc., a video security company, rose 13 percent to $36.05.
Copyright 2018 The Associated Press. All rights reserved. This material may not be published, broadcast, rewritten or redistributed. We strive to uphold our values for every story published.