The combined muscle of Obi Wan Kenobi, Batman and Tom Cruise hasn't been able to save the galaxy ... not the galaxy where Hollywood resides, anyway.
The Fourth of July holiday marked the 19th straight weekend that domestic box-office revenues were down compared to last year. It's the longest such slump since 1985 and remains on a course to set the all-time record low if things don't improve.
But is that lull really affecting Lawrence theaters? After all, Lawrence is a movie-loving town with a strong local filmmaking community and a university-level film school.
"The industry is down 8 percent, (but) we are doing much better in Lawrence than the industry box office," says Marlene Peters, a spokeswoman with the national Wallace Theaters chain that owns Lawrence's Southwind Twelve, 3433 Iowa.
"'War of the Worlds' represents the second biggest July Fourth opening weekend in history behind 'Spider-Man 2,'" she emphasizes. "'War of the Worlds' crossed the $100 million mark in five days faster than any previous Paramount, Tom Cruise or Steven Spielberg film."
So far, "Star Wars: Episode III - Revenge of the Sith," "Hitch" and "Madagascar" are the top grossers in Lawrence. These flicks rank in the same order on the national charts.
"The movies that do well nationally are the same movies that do well for us," says Jon Ratzlaff, Southwind's general manager. "The only difference is sometimes we get a movie that tends to be more popular with college kids. Like when 'Rushmore' came out, that movie did OK nationally but did really well for us."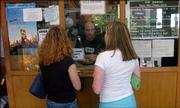 Art house gap
While Lawrence's corporate chain hasn't endured as much damage as others around the nation, the city's art house tells a different story.
Liberty Hall Cinemas, 642 Mass., works somewhat outside the mainstream box office, but it's taken the brunt of the slump in Lawrence.
"We had a significant decrease in the late spring. We were to the point where we were barely making the minimum to cover expenses," says Rob Fitzgerald, Liberty Hall Cinemas owner.
"In comparison, last year we had 'Fahrenheit 9/11.' Obviously, that did a significant amount of business for everybody in the independent business. Compared to last year, with that factor alone, the numbers are down. But generally speaking, our business hasn't been as good as it was last year."
Comparing January through July of 2005 versus 2003 - a more typical year - Liberty Hall's numbers are down 11 percent. Compared to 2004, they've dropped 27 percent.
Fitzgerald says it wasn't just "Fahrenheit 9/11," but other strong draws last year such as "Monster" (directed by Lawrence native Patty Jenkins) and "Eternal Sunshine of the Spotless Mind" that widened the gap.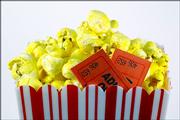 "I attribute it to the cyclical nature of films," he says. "If they're making crappy films, there's nothing we can do about it."
Liberty Hall's highest-grossing pics of 2005 include "Sideways," "Millions," "House of Flying Daggers" and "The Merchant of Venice."
"We did have a bad spell," he says. "But obviously January through April - through the Oscar season - we're showing films that are contenders, so business is good then. There are generally less good art films available from April to June. But with Memorial Day weekend kicking in, you get the better films."
Blockbusters vs. indies
Although Liberty Hall is riding shotgun with the national slump, on a film-to-film basis it sees little effect from competing blockbusters. For instance, this weekend it went head to head against "War of the Worlds" with a documentary about dancing junior high schoolers.
"We did great with 'Mad Hot Ballroom,'" says Fitzgerald, who was a projectionist for the first movie ever screened at Liberty Hall (1985's "Ran") before taking over the business two years ago. "We did $800 a day all four days of the holiday weekend -150 to 200 tickets sold per day.
"We do a steady business all the time, so I'm not certain those big blockbusters affect us that greatly."
Apparently, the reverse is also true. Southwind's Ratzlaff claims the Liberty Hall schedule has little impact on his theater's take.
"If it does, it's not easily seen," he says.
Ratzlaff mentions that the rival theaters try to be very diplomatic in terms of their booking.
"In the past we've tried to be careful not to step on their toes and take a movie that sounds like they're going to get it," he says.
Fitzgerald admits he is equally vigilant as to what films Southwind is screening. For instance, he noticed the anime piece "Howl's Moving Castle" was playing at an AMC Theater in Kansas City, so he knew it was a possibility that it might go to the Lawrence multiplex.
"It's a big town, Fitzgerald says. "There's a little bit for everybody. As a guy who operates on the fringe, I try to offer as much as possible so everybody gets coverage. It's been a successful formula for us.
"We even have our core audience who love the place and see EVERY movie."
It's safe to say that the national box office could use a dose of that type of loyalty.
Copyright 2017 The Lawrence Journal-World. All rights reserved. This material may not be published, broadcast, rewritten or redistributed. We strive to uphold our values for every story published.