Miami — Carlos Delgado isn't in danger of losing his everyday job at first base, but the Florida Marlins always can use him as a pinch hitter, if necessary.
Delgado hit a pinch-hit grand slam that capped a six-run fifth inning and lifted the Florida Marlins to an 11-3 victory over the Milwaukee Brewers on Thursday.
Delgado's 10th career grand slam punctuated a breakout inning for the Marlins, who won the last two games against the Brewers to salvage a split in the four-game series.
Four of Florida's runs in the fifth off Milwaukee starter Victor Santos were unearned because of a fielding error by first baseman Lyle Overbay.
Delgado homered off reliever Ricky Bottalico three batters after play resumed following a 41-minute rain delay.
"I'm used to starting, so I don't know what to do in that situation," Delgado said. "I got lucky today because of the rain delay. I went down to the hitting cage and took some hacks.
"I don't think this is fun because I'd rather play every day."
With the bases loaded and the pitcher's spot up, Marlins manager Jack McKeon was looking to break the game open.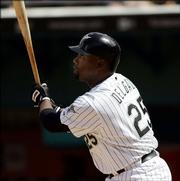 "It's nice to have a bat like that off the bench," McKeon said.
Brian Moehler (4-6) has won two straight after going eight consecutive starts without a win. Moehler went five innings and allowed three runs and four hits. It was the first home win of the year for Moehler in nine starts.
Damion Easley led off the Marlins' fifth with a double that skipped off the glove of Carlos Lee in left field. Jeff Conine then hit a sharp grounder that went through Overbay's legs for an error, scoring Easley to give Florida a 4-3 lead.
Miguel Cabrera reached on a fielder's choice, stole second and took third on Juan Encarnacion's single to left. Mike Lowell's bloop single to right drove in Cabrera.
Following the rain delay, Bottalico came on to complete an intentional walk to Alex Gonzalez, loading the bases. One out later, Delgado hit his grand slam.
Overbay took responsibility for the loss.
"I thought the ball was going to take a long hop, but it took a short one instead," Overbay said. "Still, it's unacceptable. Either way, you have to make that play."
Russell Branyan and Rickie Weeks each hit home runs for the Brewers, who lost for the third time in eight games.
Bottalico relieved starter Victor Santos, got Paul Lo Duca on a line out for the second out, but hung a changeup that Delgado smashed over the wall in right.
"He's a home-run hitter, and he caught one of my pitches," Bottalico said. "That's what good hitters do."
Bottalico hasn't been sharp lately, allowing five runs in his last three outings.
Pirates 2, Phillies 1
Pittsburgh - Pittsburgh rookie left-hander Zach Duke pitched seven shutout innings for his first major-league victory, and Humberto Cota hit a two-run homer, giving the Pirates a victory over Philadelphia. With Duke making his second consecutive impressive start since being called up from the minors last week, the Pirates split the four-game series despite being outscored 17-7.
Padres 7, Astros 5
Houston - Ramon Hernandez capped a six-run fifth inning with a two-run single in his first game back from the disabled list, and San Diego beat Houston to end a three-game losing streak. Hernandez had been out because of a sprained left wrist.
Braves 6-9, Cubs 0-4
Atlanta - Andruw Jones hit his major-league-leading 27th homer, and prized rookie Jeff Francoeur added a three-run shot in a six-run eighth inning as Atlanta beat Chicago, 9-4, to sweep a doubleheader and extend the Cubs' worst losing streak in three years. Chicago's eight-game slide is its worst since dropping nine in a row from May 8-18, 2002.
Horacio Ramirez (8-5) won the opener, 6-0, with his first career shutout.
D'backs 2, Cardinals 1
Phoenix - Luis Gonzalez led off the ninth inning with a home run to give Arizona a victory over St. Louis to salvage the finale of a four-game series. The Diamondbacks snapped a six-game home losing streak. Kelly Stinnett gave Arizona its first lead of the series, 1-0, with a leadoff home run in the third.
Giants 5, Reds 1
San Francisco - Mike Matheny hit a three-run homer and an RBI double, Brett Tomko won in his return to the rotation, and San Francisco beat Cincinnati. Matheny connected for his ninth homer on a 3-2 pitch in the fifth, a shot into the left-field seats that established his career high for home runs in a season.
Mets 3, Nationals 2, 11 innings
Washington - Mike Piazza drove in the go-ahead run in the 11th inning with his third hit, and New York handed Wasington its first series loss at home since April. Piazza returned from a day off and went 3-for-5 with two RBIs.
Rockies 8, Dodgers 5
Denver - Todd Helton broke the franchise home-run record with a shot to the upper deck, then broke open a tie game with a three-run homer an inning later, leading Colorado to a come-from-behind victory over Los Angeles. Helton's 259th homer was a solo shot, the 26th to reach the upper deck at Coors Field.
Copyright 2018 The Associated Press. All rights reserved. This material may not be published, broadcast, rewritten or redistributed. We strive to uphold our values for every story published.