The Lawrence Mavericks had one thought after learning Tuesday morning they would be playing the older Lawrence Outlaws.
"We just wanted to beat them bad," Mavericks pitcher Joe Kornbrust said, "because we hadn't been able to play them yet."
A little extra motivation, coupled with a less-than-intense Outlaws squad, resulted in a split decision Tuesday night at Ice Field.
The 16-year-old Mavericks took the first game, 5-4, before the Outlaws responded with a 6-5 victory in Game Two.
"We aren't feeling too good about the first game," Outlaws infielder Matt Ertmer said. "They're younger than us. We're supposed to win. We didn't play up to our potential."
Kornbrust kept the Outlaws hitters off-balance in Game One, using a breaking ball early in the count to set up his fastball. The hurler struck out four and walked just two in a complete-game effort.
The Mavericks gave him enough run support.
Tony Williams led off the fourth with a triple, and Jordan Guntert and Leland Kueser followed with singles to give the Mavs their first lead, 2-1.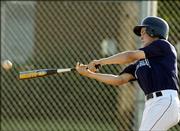 The real damage was done in the sixth, though, when consecutive hits from Matthew Avila, Austin Meyers, Travis Sanders and Daniel Parker resulted in two needed insurance runs to make it 5-1.
"I think that sixth inning we just let things slide," Outlaws coach Brad Romme said. "We take pride in trying to stop a snowball, and we just didn't get that done."
The Outlaws produced four hits and three runs in the seventh but couldn't push across the tying run.
The older team responded in game two, scoring in all but two innings with a more consistent offense.
Kyle Cross picked up the win, going five innings and giving up five runs, and Josh Moreno got the final six outs for the save.
The Mavericks rallied in the seventh, putting two men on with two out, but a groundout ended the threat.
Ertmer led the Outlaws with two hits and two RBIs in the second game.
Copyright 2017 The Lawrence Journal-World. All rights reserved. This material may not be published, broadcast, rewritten or redistributed. We strive to uphold our values for every story published.