Arlington, Texas — Manny Ramirez took a few steps out of the batter's box and slowed to admire the high-arching shot. The experience wasn't new for the Boston slugger.
As soon as the ball fell beyond the wall in right-center field for his 20th career grand slam, Ramirez stuck his arms in the air and began the slow trot around the bases that gave the Red Sox a six-run lead en route to their 7-4 victory over the Texas Rangers on Tuesday night.
"Manny does what Manny does. It's incredible," manager Terry Francona said. "He has a knack for that. He stays on balls in those situations. He's an RBI guy. He smells them. It's unbelievable."
His third grand slam this season was his 22nd homer, tying him with Texas' Mark Teixeira for the AL lead. It pushed his majors-leading RBI total to 77.
The 20 grand slams are the second-most in major-league history, trailing only Lou Gehrig's 23. Hall of Famer Eddie Murray had 19.
David Ortiz and Bill Mueller also homered for the Red Sox, all in the first three innings for a 7-0 lead. Knuckleballer Tim Wakefield (8-5) provided a huge boost for the pitching staff by going eight innings in his 300th major-league start.
"When you get that kind of a lead, it makes my job a lot easier," said Wakefield, 4-0 in six starts since a five-game losing streak. "Knowing our circumstances here with our bullpen, it's just a matter of getting the job done."
Wakefield held Texas to four runs on eight hits, improving his career record to 136-117.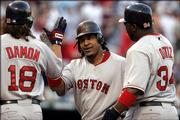 With struggling closer Keith Foulke scheduled to return to Boston to have MRI exams on both knees, Mike Timlin worked the ninth. He needed just six pitches for his second save in three chances.
"He kept that drama out of that game," Francona said.
Foulke, 5-5 with a 6.23 earned-run average, blew his second save in a week Monday night when Texas scored twice in the ninth for a 6-5 victory. He has 15 saves and has blown four other chances.
The grand slam came with no outs in the third off Chris Young (8-5). After an error, a single and a walk, Ramirez hit a ball that just cleared the wall on a rare almost-windless night in Texas.
"The way it sounded, I didn't think it was a home run," Young said. "But he's exceptionally strong and got enough of it."
Ramirez left without talking to reporters.
Yankees 12, Orioles 3
New York - Jason Giambi hit one of four Yankees homers and doubled twice, and Randy Johnson gave New York a much-needed long outing on short rest. Alex Rodriguez, Gary Sheffield and Hideki Matsui also homered for New York. Derek Jeter and Ruben Sierra each had three hits for the Yankees, who swept the two-game series and have won four straight to move within a half-game of second-place Baltimore in the AL East.
Tigers 3, Indians 2
Cleveland - Mike Maroth cooled off Cleveland's hitters, and Detroit won for only the third time in 13 games. The Indians, batting .297 and averaging 5.8 runs over their previous 29 games, lost for only the third time in 11.
A's 10, Blue Jays 7 (11)
Toronto - Scott Hatteberg's two-run single in the 11th inning gave Oakland its 10th win in 11 games. Bobby Crosby had an inside-the-park home run for the A's. Gregg Zaun and Orlando Hudson homered for Toronto.
White Sox 6, D'Rays 4
Chicago - Frank Thomas hit a three-run homer in the eighth inning, and the White Sox rallied to go 30 games over .500. Scott Podsednik started the inning with a double, and Tadahito Iguchi singled before Thomas connected off Lance Carter (1-2) for his 10th homer in just 69 at-bats this season.
Angels 2, Twins 1
Anaheim, Calif. - Bengie Molina drove in the go-ahead run with a homer, and Los Angeles claimed its 12th victory in 15 games. Molina had two hits, including his seventh homer of the season that gave the Angels a 2-1 lead in the fifth inning. Rookie Ervin Santana (3-3) allowed one run and five hits in five innings, struck out three and walked two. Francisco Rodriguez pitched a hitless ninth and struck out three.
Copyright 2018 The Associated Press. All rights reserved. This material may not be published, broadcast, rewritten or redistributed. We strive to uphold our values for every story published.