Baghdad, Iraq — Gunmen ambushed top diplomats from Bahrain and Pakistan in separate attacks in the capital Tuesday, just three days after militants kidnapped Egypt's top envoy.
The Bahraini envoy was slightly injured; the Pakistani ambassador escaped unscathed. After the attacks, the governments of both predominantly Muslim countries announced that they would, at least temporarily, withdraw the envoys.
Hours later, the terrorist group al-Qaida in Iraq posted a message on the Internet claiming responsibility for abducting Ihab al-Sherif, Egypt's chief of mission to Iraq, who was snatched out of a crowded Baghdad shopping district Saturday.
The short statement said al-Sherif was under the control of holy warriors and that more information would be delivered later. Al-Sherif was alone when he was captured outside a newsstand in the capital's al-Jamaa district.
Egyptian officials stated their intention last month to convert their diplomatic mission in Iraq into a full-fledged embassy, and al-Sherif was slated to be elevated to the status of ambassador.
In Washington, Secretary of State Condoleezza Rice reportedly telephoned her Egyptian counterpart to offer any help the U.S. government could provide in helping gain al-Sherif's release. No details were offered of what U.S. officials would be willing to do if asked by Egypt.
The U.S. government has a blanket policy of not negotiating with insurgents.
In one of Tuesday's attacks, the Bahraini charge d'affaires, Hassan Malallah al-Ansari, was slightly wounded as he drove to the Persian Gulf country's embassy in Baghdad's wealthy Mansour neighborhood. Four gunmen in a pickup truck opened fire on al-Ansari, who was traveling without bodyguards, an Interior Ministry spokesman said.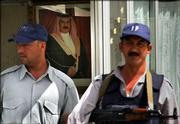 Bahrain Foreign Ministry Undersecretary Yousef Mahmoud said the attack was an "attempt to kidnap" al-Ansari, the Bahrain News Agency reported.
Al-Ansari was treated for a wound to his shoulder and released from the hospital, the Interior Ministry spokesman said. The Bahraini government ordered al-Ansari to leave the country temporarily, according to news reports. His whereabouts Tuesday were unclear.
Around midday, gunmen opened fire on the Pakistani ambassador, Mohammed Younis Khan, as he traveled from his country's embassy, also in Mansour, to his nearby residence. Khan said the gunmen first slammed into the side of his car before opening fire.
Bodyguards who were traveling in a chase vehicle exchanged fire with the gunmen, Khan said.
"I am not certain who shot first," Khan said in a telephone interview. "My security said that at least two bullets struck the vehicle of the gunmen, but it is not certain if they were injured."
Khan, who arrived in Baghdad about two months ago, said his government told him soon after the attack that he should stay in Jordan until the security situation in Baghdad improves. Pakistan opened its post-Saddam Hussein diplomatic mission in Iraq 14 months ago, Khan said.
"We are still dedicated to helping our Muslim brothers," said Khan, who remained in Baghdad on Tuesday night but said he would leave the country soon. "I would prefer not to speculate, but this series of attacks (on foreign diplomats) was not likely just a coincidence. This was a serious attempt on my life, and we have to deal with it as such."
Copyright 2017 The Lawrence Journal-World. All rights reserved. This material may not be published, broadcast, rewritten or redistributed. We strive to uphold our values for every story published.