Some days Lee Ice is up by 5:30 a.m. and in the office by 7 a.m.
He spends the next hour rescheduling the rainout games for the nine Lawrence Parks and Recreation baseball and softball leagues, so when parents check in at 8 a.m. they know when and where their children's games are.
To some, Ice's job as Youth Sports Supervisor for the Parks and Recreation Department might seem impossibly stressful.
But Ice has figured out something that allows him to enjoy the hours on the phone with parents and the endless planning that goes into making everything run smoothly.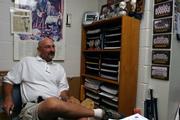 "I don't view this as work," he said. "You've got to make it fun even on the cloudy days."
It's a simple philosophy that has allowed Ice to stay intimately involved with the game he loves - the game he has played and coached for most of his life, a game he learned from his father, Al, who devoted years of his life to the sport.
Al Ice would come back from delivering mail in the afternoon, then gather up equipment and head out to Municipal Stadium, where he coached American Legion baseball for 25 years.
"Baseball is something I grew up around," Ice said. "We'd sit around the dining room table talking about baseball constantly."
Ice, who was raised in East Lawrence, was a fine player in his day. A third baseman and shortstop, he signed a contract with the Royals after finishing high school. He played in the Royals organization for two years, dreaming of making it to the big leagues.
Things didn't happen quite the way he imagined. Ice remembers vividly being a 21- year-old in Class A ball and realizing that he needed to find something else to do with his life.
"I'd been playing 60 consecutive days in Florida," he said. "I was standing at third base and I asked myself, 'Is this fun any more?' You get to that point where it's now a job. That almost seems like a lifetime ago."
Ice decided the answer was to return to coaching, something he'd tried his hand at when he was 17, being an assistant track coach at Schwegler Elementary School.
Ice returned to Lawrence and reunited with his future wife, Robyn, and started looking for opportunities. He finished his undergraduate education at Kansas University and in 1980 joined Lawrence High School as an assistant basketball coach to Ted Juno after a brief stint as a baseball assistant in Wellington.
He was thrilled to be able to stay in his hometown.
"Things just kind of fell into place," Ice said. "Why would I ever leave Lawrence if I didn't have to?"
Five years later, he returned to baseball as an assistant coach at KU while working on his master's degree in sports administration, serving as third-base coach first under Marty Patton, and then Dave Bingham, who had a profound influence on the young Ice.
"Coach Bingham probably taught me more about work ethic and preparation and what it takes it be successful than anyone," he said.
He began working for the Parks and Recreation Department in 1990 and took his current position in 1992.
It was in this role that Ice was able to fully use his talents. He has become a master of the delicate art of getting things done at an administrative level while being a patient and caring figure to kids and parents alike.
He also coached American Legion baseball for teenage boys in the '90s, and it was in that position that he developed a full appreciation for what his father did for so many years, freely volunteering his time to help local kids.
"It took me this long to figure out why he did what he did," Ice said. "It's hard when your dad isn't home. As a kid you don't understand it sometimes."
Now Ice serves as an assistant coach for his 14-year-old daughter Allison's Lawrence Phenix softball team. Ice and his wife, who will have been married for 24 years at the end of the month, have two other daughters: 17-year-old Sydney, who attends Free State High School, and 19-year-old Austin, a student at KU. Allison attends North Junior High School.
Despite his past as a competitive player, Ice downplays winning and losing in his leagues.
"Any time there's a game, there's a winner and loser," he said, "but it's how you define winning and losing that matters. When it's over, it's over."
In fact, many of the Parks and Rec Leagues don't even keep score and the focus is strictly on the players' enjoyment.
Ice is quick to point out that 70 percent of kids quit playing sports by 13, a result of the pressure that parents and society put on the players.
"It's the adults most of the time that don't make it fun," he said.
These days Ice is a busy man. He is constantly on the phone or at the ballpark. Wherever he goes in Lawrence, there are people who know him, many of whom have played baseball for him or with him at some point in their lives.
Ice has his bad days, too. When the stress of work catches up to him, he'll go out to a T-ball game at Broken Arrow field and he can't help but feel better watching little boys and girls playing baseball for the first time.
But it's the good days that have stuck with him through the years. It's all the success stories that he looks back on with the most fondness. Not just baseball success, but in all walks of life.
"I've coached hundreds of kids who are now doctors, lawyers, fire officers," he said. "These are the people that are giving back to the community every day."
Ice's journey has brought him right back to where he started, and he couldn't be happier with the way things have turned out.
"I'm able to do this in the community I grew up in and give back to them forty years later," he said.
Copyright 2018 The Lawrence Journal-World. All rights reserved. This material may not be published, broadcast, rewritten or redistributed. We strive to uphold our values for every story published.