Blois, France — David Zabriskie tumbled off his bike near the end of the Tour de France team time trial Tuesday, tearing his yellow jersey in several spots and ending his hopes of holding off Lance Armstrong.
Zabriskie, who entered holding a two-second lead over the six-time champ, was surrounded by his fellow Team CSC riders when he misjudged a turn with less than a mile remaining in the fourth stage. He fell to the pavement, and his momentum carried him into the barricades, badly bruising his right knee, elbow and wrist.
The American managed to get back on his bike and pedal slowly to the finish line, well behind the rest of his team. X-rays were negative, but he needed stitches to close a wound on his right arm, team press officer Brian Nygaard said.
Team CSC finished two seconds behind Armstrong's Discovery Channel team, and had Zabriskie fallen within one kilometer of the finish, he would have been awarded the same time as his teammates and dropped into a virtual tie with Armstrong.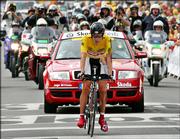 Instead, Zabriskie fell 1:26 behind the leader to ninth overall. Despite the injuries, Zabriskie intends to race today.
"The X-rays don't show any broken bones," he said. "I'm going to start."
Zabriskie slumped on his bike as he crossed the finish line. The left side of his body was badly bruised, and blood coated his left arm.
"That's the worst way possible to lose the yellow jersey," said Team CSC director Bjarne Riis, the 1996 Tour champion. "We are disappointed. We would have liked to have won and to have kept the yellow jersey."
Zabriskie's teammate and countryman Bobby Julich tried to comfort him, to no avail.
"Losing like that is like a punch in the stomach," Julich said. "David is terribly upset. He feels responsible for losing the yellow jersey. But I told him not to worry about it and that everything he's done up until now has been really superb."
Zabriskie is no stranger to mishap. He has screws in one knee from a crash in 2003 when he broke his leg and wrist after being hit by an SUV in his hometown of Salt Lake City.
Armstrong praised Team CSC for a thrilling, tactical race. He also predicted a bright future for Zabriskie.
"(Team CSC) were flying, riding really strong," Armstrong said. "It took everything we had to catch up to them. David's a young rider, and I suspect he will be in yellow some time in the future."
Copyright 2018 The Associated Press. All rights reserved. This material may not be published, broadcast, rewritten or redistributed. We strive to uphold our values for every story published.