Downtown patrons concerned about aggressive panhandlers received some relief from city commissioners Tuesday night, but neighbors concerned about homeless camps along the Kansas River did not.
After an hour's worth of public comment that accused them both of unfairly prosecuting the homeless and not doing enough to protect neighborhoods from transients, city commissioners approved three "civility" ordinances but rejected one dealing with camping.
Commissioners approved ordinances that would prohibit panhandlers from asking for money in an aggressive way, make it illegal for people to trespass on rooftops, and limiting how people could sleep or sit on city sidewalks. But commissioners unanimously rejected an ordinance that would have cracked down on homeless camps in city parks and other public property.
The mixed decisions left both sides less than happy.
"This seems to be a symptom of a trend in our city: the criminalization of homelessness," said Kalila Dalton, a member of Lawrence-based Kansas Mutual Aid, an organization advocating on issues of class, race and gender. "If it is cold outside and if you have no warm place to be, it seems reasonable to build a fire. If you have no money, it seems reasonable to ask someone who appears well off for money."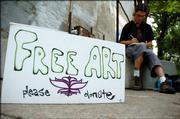 But Ted Boyle, president of the North Lawrence Improvement Assn., said many North Lawrence residents felt the city needed to do more to crack down on homeless camps along the Kansas River.
"It seems like as many homeless advocates as we have, we could solve this by letting each one of them take a homeless resident home and letting them camp in their backyards and see how they like it," Boyle said. "That's the issue for me because the Kansas River is my backyard."
Commissioners unanimously rejected the bulk of the proposed camping ordinance because they said the city's current criminal trespassing ordinance allowed them to address the issue when problems arose. The main difference between the trespass ordinance and the camping ordinance was that under the trespass ordinance campers have to first be given a warning to leave before they could be ticketed.
"I don't think that is an unreasonable hoop for the city to be required to jump through," Mayor Boog Highberger said.
Commissioners did agree to approve a portion of the ordinance that would make it illegal for people to camp on private property without the express permission of the property owner.
The other ordinances that commissioners approved will:
¢ ban aggressive panhandling by prohibiting repeated attempts to solicit money from the same individual. It also would prohibit panhandlers from blocking someone's path or touching them. Panhandlers also would be banned from soliciting within 20 feet of an automatic teller machine or a bus stop. Panhandling people in vehicles also would be illegal. Commissioners approved the ordinance unanimously.
¢ make it illegal to lie or sit on a sidewalk in a way that blocks the path of a pedestrian or requires pedestrians to reroute their course. The ordinance does have exceptions for protests and other activities protected under the First Amendment. The ordinance was approved on a 3-2 vote, with Commissioner Mike Rundle and Highberger opposing it. Highberger said he thought the ordinance simply addressed "things that people didn't want to look at," rather than genuine public safety concerns.
¢ make it illegal for people to go onto the rooftop of a building without the permission of the building owner. Several downtown merchants have complained of people camping on their rooftops. The ordinance was approved unanimously.
All the ordinances will be required to appear on one more city commission agenda - likely next week's - to receive a second reading before they become official.
Hunting, trapping banned on city property
It soon officially will be illegal to hunt or trap animals on city property.
City commissioners Tuesday night unanimously gave preliminary approval to an ordinance that bans hunting and trapping of animals in city parks. The city's parks and recreation department reported it had received complaints of hunting and trapping activities in the Riverfront Park area for the last two years. When the complaints were turned over to the Kansas Department of Wildlife and Parks, conservation officers said a city ordinance would help in their enforcement efforts.
Approval delayed for office building
Commissioners agreed to delay approval of a site plan for a two-story office building at 4101 W. Sixth St. after several neighbors expressed concerns related to how the project would affect drainage in the area.
Commissioners directed the city's stormwater engineer and the project's developer, Doug Garber Construction, to conduct a meeting with neighbors.
Copyright 2018 The Lawrence Journal-World. All rights reserved. This material may not be published, broadcast, rewritten or redistributed. We strive to uphold our values for every story published.