There are plenty of good stories just waiting to be told at next week's All-Star game.
Scrappy Brian Roberts of the Orioles and triple-crown threat Derrek Lee of the Cubs will start for the first time. Roger Clemens and Pedro Martinez reunite to pitch for the National League, and a new generation of outfielders takes over spots once held by the likes of Barry Bonds and Sammy Sosa.
There could be one real bad story, too, assuming Kenny Rogers shows up.
If that happens, baseball and Rogers will owe the real All-Stars an explanation.
Sure, Rogers pitched himself onto the team with a first-half performance that merited his selection. But he just as surely kicked himself off when he attacked two television cameramen simply because they had the audacity to be near him on the field.
Real All-Stars respect the game and those around it.
Real All-Stars understand that without the media and the fans, they're playing sandlot ball for free between shifts at the local factory.
Real All-Stars stand up and say they're sorry when they've done something wrong.
Real All-Stars don't act like Kenny Rogers.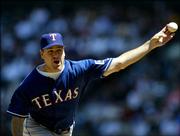 Of course, Rogers always could do the right thing and stay home. That would seem out of character, though, for a playground bully who tends to behave like a 4-year-old who just had his favorite toy snatched from him.
Or Bud Selig could show some real backbone, ban Rogers from the game and take his chances with the player's union in court. But that would seem out of character for a commissioner who, until recently, was afraid to even suggest to players that they might have to take more drug tests.
That could leave the midseason classic with one big shadow hanging over it even before it begins. And that's too bad for guys like Roberts and Lee, who deserve their chance to be celebrated without Rogers getting in the way.
The same media Rogers hates so much will be in Detroit because, try as he might, Rogers can't order them not to be there. They have to make a living, too, though there's a good chance none is making $3 million a year.
Only in the coddled world of major league baseball could something like this happen: You attack someone at work, joke about it with your teammates, get a slap on the wrist, and a few days later take the mound for your regularly scheduled start.
Then, you're rewarded with an invitation to the All-Star game.
Selig puffs out his chest and says a 20-game suspension and a $50,000 fine is stiff punishment. But it's really not, and Rogers' chief apologist on the Rangers, manager Buck Showalter, said he wanted to see the suspension reduced.
It sounds like a lot of games, but in reality it's only a four-game suspension because Rogers is a starting pitcher who only works every fifth day. At the age of 40, that's a good midseason rest for someone who still will get paychecks worth about $400,000 during the time he's away from the team.
The fine? In the real world, that would be equivalent to fining someone making $50,000 a year a grand total of $833.33.
Besides, Rogers could pay that off with the $50,000 bonus he gets for making the All-Star team. Take away the tax deductions, and he actually comes out ahead.
The silly thing is that all this might have been avoided had Showalter or Rangers' management understood the warning signals. Rogers has been sullen all season, apparently angered that his demands for a new two-year contract were written about.
A day before he lost control, Rogers issued an absurd order that cameras be turned off around him in the clubhouse. Next, perhaps, he was going to order all fans in Texas Stadium to stand up and turn around while he pitched.
It would be hard to figure out what was going through this guy's head even if he were talking. Luckily he's not, because there's really not much to learn from a spoiled, self-centered 40-year-old millionaire who probably never has held a real job in his life.
Selig needs to act as tough as Rogers thinks he is. Then there would be no All-Star debate.
Copyright 2018 The Associated Press. All rights reserved. This material may not be published, broadcast, rewritten or redistributed. We strive to uphold our values for every story published.