AUBURN HILLS, MICH. — The Detroit Shock got Swin Cash back Tuesday night.
It didn't change things much.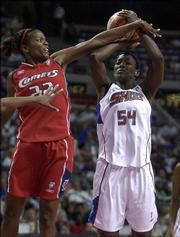 The slumping Shock blew a 10-point lead in the second half, letting the Houston Comets post their fifth straight victory, 75-66.
"I'm doing a fairly poor job of coaching this club right now," coach Bill Laimbeer said after his team's seventh loss in nine games. "I can't get them to show any desire."
Laimbeer's team has four players going to this weekend's All-Star game, but he isn't sure why.
"We just stopped competing tonight," he said. "We are a soft team."
Cash, who is scheduled to start for the Eastern Conference, gave herself a C+ in her first game since tearing a ligament in her right knee in September. She played 18 minutes, scoring two points on 1-of-5 shooting.
"I wasn't looking to do anything special," she said. "I just wanted to get back out there and get used to things again. I did a good job of that."
Houston (9-5), which got 22 points from Sheryl Swoopes, hasn't been beaten since a four-game losing streak June 10-15.
"We were down 10, so to come back and win is big," coach Van Chancellor said. "That was a great, great win for the Houston Comets."
Detroit's other All-Star starter, center Ruth Riley, was limited to just nine minutes by foul trouble, opening the door for rookie Kara Braxton's career-best 20 points and eight rebounds.
Deanna Nolan had 19 points for Detroit, but no other Shock starter reached double figures.
Mercury 76, Silver Stars 69
San Antonio - Penny Taylor scored a game-high 21 points on 8-of-11 shooting, and Phoenix broke a season-high five-game losing streak.
Liberty 67, Sparks 55
Los Angeles - Vickie Johnson scored 22 for New York. Kansas University product Tamecka Dixon had four points for Los Angeles.
Copyright 2018 The Associated Press. All rights reserved. This material may not be published, broadcast, rewritten or redistributed. We strive to uphold our values for every story published.