Roy Lashbrook speeds.
No, he's not a daredevil with a rocket engine strapped to his car, careening wildly down the highway.
But he doesn't strictly adhere to posted speed limits, either. Like a lot of his fellow drivers, Lashbrook says he cruises at just a few miles per hour over what's allowed.
"Well generally I call it the 'Plus-10 Club,'" said Lashbrook, a Bonner Springs resident, as he filled his car's gas tank last week in North Lawrence. "Most of us out there pretty much take the speed limit and add about 5 to 10 mph. We feel that's about the safest, as far as not getting a (speeding) ticket."
The perception of a "speed buffer" is so widespread that the Governors Highway Safety Assn. last month warned it poses a danger to drivers - and that the number of traffic deaths nationwide might be falling without that buffer.
"A buffer is a safety issue," said Jonathan Adkins, a spokesman for the organization in Washington, D.C., "because traffic laws aren't guidelines. They're laws, they're restrictions."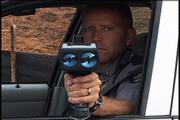 Police and other traffic officers say drivers can't count on a buffer.
"Officers a lot of times will give leeway, simply due to the fact that there are so many other vehicles going quite a bit excessive of the 5, 10 mph," said Lawrence Police Sgt. Dan Ward.
But he was quick to add: "Anytime you're out there driving, you need to obey the speed limit, and you can't count on a buffer zone."
There is a buffer of sorts written into Kansas law. The Kansas Highway Patrol, on its Web site, tells drivers that if you're caught speeding 10 mph or less in a 55- to 70-mph driving zone, you can still get a ticket - but it won't go on your driving record, and won't affect your insurance rates.
That doesn't make speeding OK, officers say.
"What generally we tell people when asked - and that's a common question - is that the speed limit is what's posted," said Lt. John Eichkorn of the KHP. "As a society we've grown to become accustomed to a buffer of sorts. Police officers, most generally, give some margin of error."
He added: "There is no magical number, and people want you to tell them that. I don't know any police officer that is exactly the same."
Traffic death tolls
In Kansas, speed-related traffic deaths have fluctuated in recent years - a low of 101 deaths in 1994 and a high of 142 in 2002. Such deaths dipped to 114 in 2004.
"The faster a vehicle's going," Eichkorn said, "when it crashes there's more property damage, more injury to human beings and a greater potential for death."
But the GHSA report quoted studies showing that states that have raised their highway speed limits in recent years have seen a corresponding rise in traffic deaths.
The "speed buffer" only exacerbates that problem, Adkins said.
Speed-related deaths in Kansas since 1993
Year: Number
2004: 114
2003: 127
2002: 142
2001: 134
2000: 113
1999: 129
1998: 123
1997: 109
1996: 122
1995: 116
1994: 101
1993: 105
Source: Kansas Department of Transportation
"You can't respond as quickly" to a threatening situation, Adkins said. "The impact is greater - even if you're wearing a seat belt, you're much more likely (not) to survive."
Michael Johnson, a Kansas City resident who was also at the North Lawrence gas station last week, was skeptical.
"I don't know that driving 5 over the speed limit is going to impair my ability to either stop or go faster - I mean, stop or avoid an accident," Johnson said.
Cracking down on speed
The GHSA calls speeding "highway safety's next big issue." Adkins said cracking down on speed buffers would be part of that debate.
But don't motorists like the buffer?
"They do, sure," Adkins said. "We have an uphill battle to convince people not to speed. But we also had an uphill battle 25 years ago with drunk driving."
Part of the solution, he said, might involve creating a network of automated "speed cameras," similar to the red-light cameras used in some states. Such cameras are not legal in Kansas.
"Very few states (use them)," Adkins said. "That's something we need to change."
Lashbrook prefers the status quo.
"I think the death rate is reflective of how people drive in the conditions that they're in, whether it be traffic or weather or whatever," he said. "If you're a smart driver, if you're reasonably defensive and not too offensive a driver, you can usually do pretty well out there. "
Copyright 2018 The Lawrence Journal-World. All rights reserved. This material may not be published, broadcast, rewritten or redistributed. We strive to uphold our values for every story published.