The Douglas County Amateur Baseball Assn. has a long tradition as a boys-only club.
But over the past few years a small number of girls have started to change that. This year, two girls are making their marks in the league.
Emily Byers, 7, plays for the 8-U Jets and Emily Peterson, 12, plays for the 12-U Cardinals. The two girls haved silenced the critics by putting it all out on the field and, game in and game out, demonstrating the competitiveness that it takes to play in DCABA.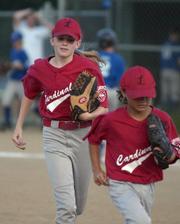 "Emily knows that it takes commitment to play in this competitive league," Vonnie Peterson, Emily's mom, said. "When [other boys] see a girl who can play ball they respect them. I think it drives the competitive spirit a little more because they don't want a girl to upstage them."
Stronger competition
The road to DCABA for both girls was based on their desire for competition and a drive to prove their skill on the boys' turf.
Byers decided to play in DCABA after playing two years in the Parks and Recreation league.
"She had an older brother, Evan, who played for DCABA so there was no nervousness about her decision to sign up," Dana Byers, Emily Byers' mom, said. "I knew that she would be ready for it."
Peterson also started in the Parks and Recreation league, but, unlike Byers, a self-motivation to play baseball fueled her desire to play in DCABA.
In third grade at the time, Peterson started playing DCABA when there was an option for her to play in the Phenix league or continue with Parks and Recreation.
"Emily (Peterson) had a friend who was playing baseball and she wanted to play with him," Vonnie Peterson said.
No prohibitions
DCABA does not have a policy that prohibits girls from trying out and playing.
"Girls fit into DCABA," said Stan Skwarlo, Jets head coach and DCABA president. "If they want to come out and play, more power to them and we certainly encourage them."
Both parents had their doubts and concerns about their daughters playing baseball, but both encouraged them to give it a shot.
"At the time when she (Emily Peterson) went to play DCABA, my husband and I told her not to be disappointed if you don't hit the ball," Vonnie Peterson said. "She did at tryouts, and I knew that if she could hit the ball at tryouts then she could play with these boys."
Sticking it out
Dana Byers told Emily Byers that she couldn't just decide one night she wanted play in DCABA and not the next day. There is a commitment level required for DCABA that she needed to understand.
The commitment level is something that Emily Peterson understands after being in the league for three years.
"When I signed up to play DCABA ball I knew that I was committed for the long run," Emily Peterson said.
Emily Byers said she loves playing baseball and has fun playing for the Jets.
Coach Skwarlo said Byers hits well, has the ability to play in the infield, and plays the outfield.
"I can put her at several different positions, and I think she mixes real well with her teammates," Skwarlo said.
Emily Peterson's coach, Brad Walthall said that she is just like any other player on the team.
"We don't treat her any differently," Walthall said. "She comes out and plays hard, wants in the game all the time and has a heart that won't quit."
Fitting in
The teammates of Emily Peterson and Emily Byers accept them and see the contributions they make to their team during the game.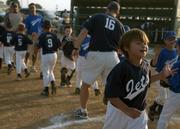 "We've seen her (Emily Peterson) play before and she has proven that she is a good player," Dalton James, Cardinals teammate said.
Emily Byers has not experienced any frustrations or differences on the Jets, but said her previous experience in Parks and Recreation with being the only girl on her team made the transition easier.
"She was comfortable playing with boys," Dana Byers said. "She is an athletic girl, very much the tomboy and is able to fit in with the boys."
Emily Byers said it is sometimes weird to be the only girl - and at times it can be embarrassing.
"It is a lot more fun than playing with girls because it is a bit harder," she said.
Coach Skwarlo said he had never witnessed Emily Byers being pointed out as a girl.
"You could say to [Emily], you are out there competing just like these guys are," Skwarlo said. "You are doing everything they are and you come to the plate with two strikes, coming down to get the bad pitches, making plays in the field, showing it is an even playing field for both boys and girls."
Earning respect
The past four years Emily Peterson has played in DCABA has earned her the respect from coaches, teammates and opponents.
Vonnie Peterson recalled one time when she and her daughter went to the grocery store and an umpire came up to them to make sure that Emily was returning the next summer to play in DCABA.
At the end of last season, Emily Peterson's team dissolved and Walthall knew that he had only one place to look to fill the open spot on his Cardinals roster.
"I made one phone call because I wanted to make sure she was playing ball," Walthall said.
Emily Peterson experiences the most adversity when she is at tournament play. Emily said often times she will hear, 'Oh gosh, there is a girl on their team'."
Not getting respect enabled Emily Peterson to surprise others with her talents.
Vonnie Peterson said last year, at a tournament, her team wasn't doing as well. Then Emily Peterson got up to bat and ripped a ball down the third base line and into the outfield.
"After Emily got on base their coach commented to our coach that the third baseman was crying because a girl hit the ball past him," Vonnie said. "Our coach told him she is probably going to do it again."
Being the only girl on the Jets, Emily Byers is used to being grouped in with the guys.
"I am kind of used to hearing boys in the dugout, but I have a lot of friends that are boys so it doesn't bother me," Byers said.
Byers said getting big victories in the tournament are the benefits of playing with the Jets in DCABA.
"The boys see me as competition and the girls wish I was playing softball and some think I am just a tomboy," Byers said.
Younger players more accepting
Skwarlo said it's great to see all the kids at this age as each other's teammates because they don't act differently toward each other.
"It makes it real easy on me as a coach," Skwarlo said. "I've relished having girls on the team because it is a great experience."
Emily Peterson knows that her talent speaks volumes about her ability to compete among the boys.
Skwarlo said having girls in the league helps shed the old-school, traditional perspective of DCABA.
"DCABA has been around a long time, there is a lot of tradition and history with this league and by having girls come in it shows that with a competitive, structured league like DCABA girls can come in and compete and be successful," Skwarlo said. "I think that reflects positively on the entire league."
Skwarlo said girls are welcome in the league and coaches work with the girls like any other kid on the team.
"This is a great league for them to get involved in," Skwarlo said. "At this age, 8-U, it is probably a little easier, but we have another Emily in the 12-U division that has come up through the ranks and done pretty well."
Baseball vs. softball
Skwarlo said there was a fine line because he doesn't want to tell the girls they shouldn't play softball, because that sport should be promoted as well, but the decision for a girl to join DCABA is up to her.
As the players get older, boys tend to get physically stronger than girls. And that makes it harder for girls to compete with the boys at the same level.
"[Emily] will get less playing time, sit the bench more, not get discouraged, but have less fun playing baseball and, we are hoping when that happens, slowly transition to softball," Emily's dad, David Peterson said.
Emily Byers has thought about what it would be like to play on a softball team and said it seems a bit harder.
"In softball, the girls pitch different and a bit faster than what I am used to hitting," Byers said.
When baseball is no longer an option for Emily Peterson she said she might play softball or basketball, but doesn't want to think that her baseball career is over anytime soon.
"I will feel a little bad if I don't have the opportunity to play high school baseball," Emily Peterson said. "I want to have the chance to show them that I could play and I am talented enough to play."
Emily Peterson's parents have thought about the future and think that next year they will have Emily try out for softball, but still play baseball.
"In baseball you get to steal, there is more to it and that is what she enjoys," Vonnie Peterson said. "Emily has aspirations to be the first girl in the major leagues."
For Emily Byers, she has a while to continue playing in the league.
"I think she will continue to play with DCABA," Dana said. "She is not yet ready to join girls softball because she doesn't think they are serious enough. Maybe when she gets older and realizes that they are serious enough she will switch to softball. Our biggest challenge is going to be when to switch her over. We will know when the time is right to switch her to softball."
Future uncertain
Emily Byers recommended DCABA to other girls if they are interested in competition. She said if the girls feel like they can play with the boys then they could play in the league.
Both girls have a toughness that drives their aspirations of continuing athletics after their time with DCABA. It is certain that gender is not going to hold them back.
DCABA provides Byers and Peterson a chance to play in a competitive league at the younger age level.
"They get the skill level and then transfer over to softball," Skwarlo said. "I think that is a great option to fill that niche and the skills then transfer over to softball later on."
It takes a competitive spirit to play in DCABA and that is something both boys and girls can bring to the diamond.
"[Her ponytail] was the reason they first saw her, but minute she hits the ball, throws the ball or runs they look at her as a competitor," Vonnie Peterson said.
Copyright 2018 The Lawrence Journal-World. All rights reserved. This material may not be published, broadcast, rewritten or redistributed. We strive to uphold our values for every story published.