Welcome to Animal Planet.
The Lawrence home of Gary Rogers and Leola Roach is sanctuary to a veritable zoo of critters: two cats, two dogs and seven birds of various origins.
But reigning supreme over this kingdom of beasts is Venus, an Umbrella cockatoo with snow-white feathers and black, penetrating eyes.
"She's the queen. She rules the house," says Rogers, 43, an over-the-road trucker for more than 20 years.
Indeed, what Venus wants, Venus gets.
At the moment, she favors Dr. Pepper from the can (she tips it up to drain the last few drops), peanut butter sandwiches and a variety of other foodstuffs.
In fact, she is allowed to circle the dinner table, moving from one diner's plate to the next, in search of tasty morsels.
"She loves chicken. Actually, it's kind of sad to feed a bird fowl, but she loves it," Roach says.
Oh, and scrambled eggs, too. (That's just GOT to be wrong.)
In addition to her deluxe diet, Venus demands to be a part of whatever Rogers - whom, he says, she considers her mate - is doing.
Photo Gallery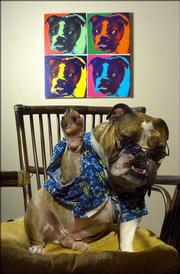 Pampered pets
That means when he sleeps, she sleeps. When he eats, she eats. When Rogers goes on the road, she accompanies him.
And when he showers - well, Venus showers, too.
She has her own perch in his shower stall.
There's no need for alarm. It's good for birds to bathe, Rogers says, especially those who come from rain forests.
Yes, it's fair to say, Venus surely qualifies as a pampered pet, doubtless one of many Lawrence companion animals for whom nothing is too good, on whose behalf their human keepers will go to any length to satisfy.
"This bird gets away with murder," Rogers says. "She gets away with everything."
Collar for every holiday
Venus has plenty of company.
Other Lawrence pets share her lifestyle of champagne wishes and caviar dreams.
Meet Heinz, a 3-year-old English bulldog owned by - make that SERVED by - Ben and Michelle Andrews.
He is the canine star of a furry menagerie that also includes three cats: Ciara, Duchess and Pinky.
And Heinz has it good.
"He gets his face and jowls wiped after every meal, so twice a day. He loves it," says Ben, 29, a certified registered nurse anesthetist at Stormont-Vail Regional Health Center in Topeka.
"Whenever we grill, he gets whatever we get. Every once in a while that means steak, but usually chicken and turkey. When we light the grill, he knows he's going to get something. He goes nuts."
So the pooch eats well - what else?
How to help less-pampered pets
Please remember that not all pets are as lucky as Venus, Heinz and Mack. Each year, the Lawrence Humane Society, 1805 E. 19th St., shelters about 5,500 dogs, cats and other small animals. The staff also screens and counsels prospective adopters. The shelter's hours are Monday (closed); 11:30 a.m.-6 p.m. Tuesday-Friday; 11:30 a.m.-5 p.m. Saturday; and 1 p.m.-4 p.m. Sunday. For more information, contact the shelter at 843-6835, send e-mail to Lawhumane@aol.com or go online to www.lawrencehumane.org.
Heinz has a different collar for all the major holidays, including two fancy leather Coach ones.
He sleeps at the HEAD of the bed, forcing his human caretakers to scrunch down to make room.
And he has his own pool (a plastic kiddie pool) to splash around in when it gets hot.
Ben's office at home, meanwhile, is adorned with an Andy Warhol-style portrait of Heinz in pop-art primary colors.
It's a gift from Michelle, 31, also a certified registered nurse anesthetist at Stormont-Vail.
Yes, Ben admits, Heinz is among the truly pampered of his kind.
"Honestly, from the time we wake up in the morning to the time we go to bed, our lives revolve around him," he says.
"Both my wife and I would do anything for Heinz. He's the best dog I've ever had. He's my wife's first dog, and she's just fallen madly in love with him."
True, unconditional love
Birds and dogs aren't the only Lawrence pets living the good life.
Don't forget cats, like Mack, a 16-year-old orange tabby tended by Don and Linda Hoffman.
The older feline requires some special care, which the Hoffmans are only too happy to provide.
"He's never been able to digest dry food. We've always given him soft food, so his teeth are not in the best of shape, but we get them cleaned every six months," says Linda, who works at home as a distributor for a health-food business.
Cathy King, a Lawrence-based holistic veterinarian, looks after Mack's medical needs. King, who makes house calls, has performed acupuncture on the cat, as well as providing a blend of Chinese herbs that Hoffman adds to his food.
"The herbs are to keep his metabolism running well, and also to keep him from getting constipated," Hoffman says.
The Hoffmans don't think twice about providing the best of care for their feline friend. Mack repays them, many times over.
"It's true, unconditional love. You give it and you receive it instantaneously. You would do anything for them," Linda says.
Copyright 2018 The Lawrence Journal-World. All rights reserved. This material may not be published, broadcast, rewritten or redistributed. We strive to uphold our values for every story published.