Miami — Josh Beckett's finger felt great for six innings. And in the best news of all for the Florida Marlins, it felt pretty good after the game as well.
Beckett allowed only one hit in his return from the disabled list, and Miguel Cabrera and Juan Encarnacion homered to help the Florida Marlins beat the Atlanta Braves, 6-2, Thursday night in a game delayed nearly three hours by rain.
Beckett (8-5) was activated a few hours before the game; he hadn't thrown since June 14 because of the sixth blister problem of his major league career.
He summoned pitching coach Mark Wiley and a trainer, who examined the middle finger on his pitching hand, before starting the seventh. But the Marlins said removing Beckett from the game was merely precautionary.
"We're trying to make every start from here on out," said Beckett, the 2003 World Series MVP. "And we're just being smart about it. ... Everything's great. I'm going to make my next start, throw my next bullpen (session) and everything."
Cabrera's homer, his 16th of the year and fifth against Atlanta this season, highlighted Florida's three-run opening inning against Braves starter Roman Colon (0-4). Encarnacion hit his 11th, and second in as many nights, in the second inning.
Mike Lowell hit a two-run single, Luis Castillo had two hits - giving him six in his last two games - and Juan Pierre had two hits and scored twice for the Marlins, who are 2-0 under interim manager Harry Dunlop. Manager Jack McKeon, who has been away because of a death in the family, rejoins the team Friday when the team opens a weekend series against the New York Mets.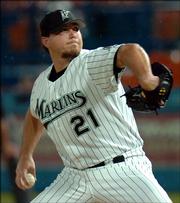 "Now we're feeling good going into New York," Cabrera said. "We're swinging the bats pretty good right now."
Mets 5, Phillies 3
New York - Pedro Martinez won for the seventh time in his last eight decisions, and Jose Reyes drove in two runs with his major league-leading ninth triple to lead the New York over Philadelphia.
Reyes also turned an acrobatic double play in the eighth on Tomas Perez's grounder to second baseman Marlon Anderson.
Nationals 7, Pirates 5
Washington - Vinny Castilla and Brian Schneider homered as Washington won again at RFK Stadium to complete a three-game sweep of Pittsburgh.
Chad Cordero wiggled out of a second-and-third, no-out jam in the ninth inning for his 25th straight save and 28th overall. He retired Ryan Doumit on a routine fly with the bases loaded for the final out.
Brewers 10, Cubs 6
Chicago - Carlos Lee homered twice, including a first-inning drive off Greg Maddux, and Milwaukee avoided a three-game sweep against Chicago.
Lee, who also homered in the eighth off Michael Wuertz, has 22 homers and leads the major leagues with 72 RBIs.
Damian Miller also homered and had a go-ahead single for the Brewers, and Geoff Jenkins had three doubles.
Rockies 7, Cardinals 0
St. Louis - Rookie Jeff Francis pitched three-hit ball for six innings, and Garrett Atkins and Danny Ardoin homered to lead Colorado to its sixth road victory of the season.
Francis (7-5) contributed two hits and scored twice for the Rockies, a major league-worst 6-31 on the road. The start was the most feeble since the 1982 Twins went 5-32, and they had dropped five straight and 11 of 12 away from Coors Field while getting outscored 77-32.
Giants 9, D'backs 2
Phoenix - Lance Niekro hit a three-run homer and winning pitcher Noah Lowry singled in two runs, helping San Francisco to its first three-game sweep at Arizona in five years.
Niekro also doubled and scored twice in the Giants' third sweep of the season and first since they won three at Pittsburgh April 29-May 1. Ray Durham added a solo homer.
Astros 2, Reds 2, 7 inn.
Cincinnati - Ken Griffey Jr. singled home a tying run in the fourth inning, and the second storm of the evening forced Cincinnati and Houston to settle for a seven-inning tie.
The game will be replayed from the start on Saturday as part of a doubleheader, the opener scheduled to begin at 4:10 p.m.
Copyright 2018 The Associated Press. All rights reserved. This material may not be published, broadcast, rewritten or redistributed. We strive to uphold our values for every story published.