Phil Dwyer's family has been operating D&D; Tire from the corner of 10th and Vermont streets for 32 years. Dwyer says he hopes he'll never need to move.
But Dwyer also said the Lawrence City Commission was one vote away from making it much more likely he'll be forced someday to end his family's downtown business presence.
Commissioners are scheduled Tuesday night to give final approval to the city's development code, which essentially would replace the 38-year-old zoning code that officials have said is badly outdated.
The new code would alter myriad technical details relating to where and how businesses and homes can be located and built in the community. Though technical in nature the document -- as Dwyer can attest -- has real-life implications.
"There are probably a lot of people who have no idea how this will affect their business or their home," Dwyer said.
Dwyer has determined the proposed changes would mean his tire shop operation will no longer be an "allowed" use for that corner. That doesn't mean his business would have to lock its doors once the new code was adopted. The business would be allowed to continue operating, but city zoning officials would place the shop in a "nonconforming use" category.
If you're a business or home owner, that's not the label you want attached to your property. One of the provisions governing a nonconforming business use is that if 50 percent or more of a business is destroyed, the building cannot be rebuilt for the purpose of resuming a nonconforming use.
If Dwyer should need to rebuild his business, he could perhaps receive a "special use permit," to resume tire shop operations. But as he complained in a letter to city commissioners "the permit process will cost thousands, will take at least 90 days, and there is no guarantee that permit will be issued."
In the proposed new codes, the requirements for rebuilding for a nonconforming use would be largely unchanged from the existing code. But business owners are crying foul because their businesses are being switched from conforming to nonconforming uses through no fault of their own.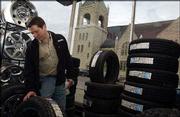 "It is likely that my only choice would be to abandon my current location and either relocate or close the business," Dwyer wrote.
Other businesses also are concerned. Chuck Magerl, owner of Free State Brewing Co., 636 Mass., and Wheatfields Bakery and Cafe, 904 Vt., discovered a set of definitions that would have made his two businesses, and many others like them, nonconforming uses.
City commissioners at their meeting two weeks ago tentatively agreed to change the definitions, but Magerl said he still was not resting easy.
"This code is about 100 pages longer than the one we're replacing," Magerl said. "I think there may be some real surprises hidden in those extra 100 pages."
Seeking delay
No one is sure exactly how many businesses may be pushed into the nonconforming use category. Price Banks, a Lawrence land use attorney, said it could be thousands. But Lawrence-Douglas County Planning Director Linda Finger said that Banks' estimated number was far too high.
But the fact that no one is certain of the number is another reason developers and business owners are concerned, Banks said.
"These regulations probably affect more people than anything the City Commission has done in the last 38 years," said Banks, who was the city's planning director for 12 years in the late 1980s and early 1990s. "I've read them, and I don't understand a lot of it, and I would like to think I have a better grasp than the average person out there."
Banks is part of a group of 11 attorneys, real estate professionals, lenders and insurance professionals who have started reviewing the document. They've forwarded a list of recommended changes that would ease some of the burdens to those whose properties come to fall in the nonconforming use category. But Banks said the group hoped the City Commission would delay approving the document for three to four months.
Magerl said he agreed a delay was needed.
"Let's start this out right and not force citizens to come in on bended knee and hope that they'll have their situation corrected," Magerl said.
But some city officials have other ideas.
City Commissioner David Dunfield said he wanted to approve the document then get to work "tweaking" it to fix specific problems. After all, he said, city officials and consultants have been working on the changes for six years. And a draft version of the code has been available for public review for more than a year.
"We can't wait for perfection because that will never come," Dunfield said.
Homeowners affected
Business owners aren't the only ones who will want to pay attention to what city commissioners do Tuesday night. Homeowners also may have much at stake.
As the proposed code currently is written, approximately 1,500 homeowners would have their properties categorized as nonconforming uses. Property owners most at risk are those with single-family homes on property zoned for a duplex.
As the Journal-World reported in December, the proposed changes could make it difficult for some owners to rebuild their homes if the structures were destroyed, say, by fire or storm. It also could create insurance and lending issues for the homeowner.
In response to those concerns, city planning officials are now recommending a change in the code that would eliminate the need for those homes to be labeled as nonconforming uses.
Finger said that if commissioners accepted the planning staff's recommendation, those approximately 1,500 houses would be allowed to continue in conformance with code.
Notwithstanding those proposed changes to the changes, the new code is creating another set of worries for some homeowners. The proposed code would allow contiguous duplex lots to be combined and redeveloped into an apartment building.
For example, three duplexes that have a total of six living units could be redeveloped into a single apartment building with six living units.
Joyce Wolf, former president of the Indian Hills Neighborhood Assn., is concerned that her southern Lawrence neighborhood has several areas that could be redeveloped.
"We're worried that we could be living next to something that just flat wouldn't fit in with the rest of the neighborhood," Wolf said. "You could have a three-story apartment backing up to a single-family home, and those people couldn't use their back yard with any privacy."
Dunfield said that was an example of a problem that city commissioners and planners could tackle after the code had been adopted. Planning officials have a proposal they expect to present Tuesday that would create a slightly different zoning category, making it more difficult for existing duplexes to be redeveloped into apartments.
But Wolf said she would rather have commissioners fix the issue before the code was adopted.
"There's always that possibility it is supposed to get fixed but it falls through the cracks," she said.
Dunfield says that's unlikely in this community.
"If there are problems, we'll be forced to deal with them," he said. "The public isn't going to allow us to forget about them."
Copyright 2018 The Lawrence Journal-World. All rights reserved. This material may not be published, broadcast, rewritten or redistributed. We strive to uphold our values for every story published.