Kansas University students had their moment in the national sports spotlight Saturday morning to cheer for their men's basketball team, and they took full advantage of it.
Several hundred students wearing blue and waving signs provided a noisy backdrop to ESPN's hourlong College GameDay basketball program. It was the first of three GameDay shows broadcast live amid the trophy cases in the east lobby of Allen Fieldhouse and centered on Saturday night's KU-Texas basketball game.
"It's pretty awesome," said Joshua Bender, a freshman from St. Louis. "I haven't seen anything like this at KU."
Bender and a friend, Topeka freshman Kyle Davis, were willing to do anything to attract the attention of ESPN cameras. They showed up wearing helmets carved out of basketball covers.
"This is crazy, but it's national TV and everything," Davis said.
GameDay, which features ESPN anchor Rece Davis and college basketball analysts Digger Phelps and Jay Bilas, restricted its morning live audience to the first 40 groups of KU student campers, along with KU band members and cheerleaders. The evening shows before and after the game were open to fans attending the game.
The students were boisterous throughout the program, especially when one of several cameras moved in close to them. They cheered when men's coach Bill Self joined the anchors at their desk for an interview and when taped interviews with former KU star Danny Manning and others were shown. They yelled "Mooo-dy" during a feature about KU walk-on forward Christian Moody.
"This is great for the university," said Brad Gillette, a junior from Chicago, who had little hope of getting on television because he was standing at the back of the crowd.
Next to Gillette was Lisa Morris. "I can't see, but I can tell everybody I was here," she said. "I wanted to come here because tonight I have to work and can't go to the game."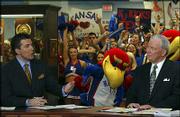 Cell phones also popped open as students called their parents or friends to tell them to turn on their TV sets. Jennifer Wilson, a junior from Omaha, Neb., called her mom.
"She was like, 'What are you guys doing on TV?'" Wilson said, although she didn't think the cameras ever did focus in on her.
Kelly Sanders, another Omaha junior, was glad students were getting a chance to display their Jayhawk pride across the nation as well as show off KU's old but endearing fieldhouse.
"This shows we're behind KU basketball, and it shows the nation that we are proud of our basketball history," Sanders said.
And that is a key reason ESPN launched its basketball GameDay program, according to Phelps, a former Notre Dame basketball coach-turned sports broadcast analyst. Last weekend ESPN opened its basketball GameDay at the University of Connecticut as it capitalized on the popularity of its football GameDay program.
"I just think for us this is another step in the right direction, to let the fans know that the student bodies are so much of a factor (when) playing at home," Phelps said after the program. "It's one of the great thrills of college sports."
KU's basketball history also is a factor in the fan frenzy, Phelps said.
"Kansas has a great tradition with what all goes on here at Allen," he said.
The 7 p.m. show brought a whole new round of rowdies to the east lobby. Fans stood 10 people deep behind the ESPN anchors' desk, many craning their necks just to catch a glimpse of the back of Jay Bilas' head.
About halfway through the program, several fans started to climb onto the shoulder's of friends and family members to get a better view -- until security guards told them to get down.
Steve Gibbs, a KU alumnus from Santa Fe, N.M., who traveled to Lawrence for the game with his daughter Leah, a KU graduate who lives in Denver.
Both had their ears glued to their cell phones as they swayed back and forth at the back of the crowd, trying to pick out an ESPN anchor or cameraman through the melee.
"We're about four people deep, so I doubt we're going to get on the air," Steve said. "But it's still a lot of fun."

-- Staff writer Jay Senter contributed to this report.
Copyright 2018 The Lawrence Journal-World. All rights reserved. This material may not be published, broadcast, rewritten or redistributed. We strive to uphold our values for every story published.