A Kansas University student shouted a good-natured barb at ESPN GameDay analyst Digger Phelps on Friday in the East lobby of Allen Fieldhouse.
"Hey, you picked Villanova to beat us," a male fan in a KU sweatshirt complained to the former Notre Dame coach after his on-air prediction Saturday.
"After watching what you did against Nebraska here, what did you want me to do?" Phelps responded with a grin, referring to KU's 59-57 escape over the Cornhuskers three days prior to the game against the Wildcats in Philadelphia.
Phelps, GameDay host Rece Davis and analyst Jay Bilas made a couple hundred friends Friday, signing autographs for students who were ushered behind the GameDay stage. The students performed the Rock Chalk chant and other cheers during promos for today's daylong coverage.
Bilas called the fieldhouse "the Wrigley Field of college basketball."
"This building speaks to you," Bilas said, noting he made an official visit to KU during his senior year of high school before he chose Duke, where he was a standout in the 1980s.
"I love this place. It is one of the gems of college basketball. I think if you asked anybody in all the different places, they'd say the same thing. It's in the top five, no question."
Phelps also loves the 50-year-old structure.
"We knocked off Utah (69-56) and DePaul by 20 (84-64) here in the '78 Midwest Regional to get to St. Louis (site of Final Four). It's very special to Notre Dame," said Phelps, who chanted the Rock Chalk chant at the end of the GameDay promo piece.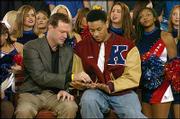 None of KU's players will be interviewed live on GameDay today on the two shows before the 8 p.m. KU-Texas game. GameDay will air at 10 a.m. and 7 p.m., with one to follow the game at 11 p.m.
The Jayhawks need no distractions on game day. But they just might, however, be tempted to tune in.
"When they say something good, I try not to listen. Because when they say something bad, I don't want to listen," KU senior guard Michael Lee said. "I really try my best not to pay attention. But you know, every now and then you'll turn on the TV and they're saying something but it's their opinion, and opinions aren't true all the time.
"We want to win the game. It shouldn't matter what outside factors are playing in. That shouldn't be our motivation."
Like all good hoops analysts, the GameDay broadcasters are known for telling it like they think it is.
"All I know is they are going to commentate the game, and they can't make me shoot the ball or make Wayne (Simien) dunk on people," sophomore J.R. Giddens said. "As long as we take care of business, they can say what they want to say, as long as the end result is KU winning."
A limited number of tickets for the 2005 Big 12 Conference men's basketball tournament, scheduled for March 10-13 in Kansas City, Mo.'s Kemper Arena, will go on sale Tuesday. Fans can go to www.Big12sports.com to download a ticket application.Fans also may go to the Kemper box office during normal business hours to pick up an application and make payment by check, cash or money order.
Fellow KU senior Aaron Miles said he didn't watch the first GameDay of the season, held at last week's UConn-Pitt contest. He's familiar with the format, however.
"I watched a little of it during football season," Miles said.
The first hoops GameDay was Saturday in Storrs, Conn., where the Huskies blew a big lead in falling to Pittsburgh.
"It's been awesome, great. It's great for us to be able to show how much excitement there is for college basketball," Bilas said, noting GameDay has been held every football Saturday for several years. "It's not just football. It's basketball, too. You could argue there's more interest in basketball."
He knows there's interest at the fieldhouse, where fans remember past comments made by Bilas, Phelps, Dick Vitale et. al.
"They make jokes about it. That's OK," Bilas said of fans. "It's all fun. I've never felt attacked."
¢
Kaun practices: KU freshman Sasha Kaun practiced Friday with two new front teeth. For the second time this year, Kaun had his teeth bashed at practice, this time Thursday when his mouth knocked into J.R. Giddens' head in a drill.
¢
Classic game: KU junior Christian Moody remembers KU's 90-87 victory over Texas his freshman year at Allen Fieldhouse. Nick Collison had 24 points and 23 rebounds in that game, prompting a standing ovation from ESPN's Vitale.
"You look at that game, it was awesome," Moody said. "That was one of the best, most exciting games I've been part of. When we play them, it's always a great game."
¢
'Horns win: UT beat KU, 109-105, in KUsports.com's X-Factor game. Keith Langford scored 27 points, and Aaron Miles had 23 points and eight assists.
Copyright 2018 The Lawrence Journal-World. All rights reserved. This material may not be published, broadcast, rewritten or redistributed. We strive to uphold our values for every story published.