Lynn Parman is looking to score 15 of the hottest tickets in town.
Parman, vice president for economic development at the Lawrence Chamber of Commerce, is asking business leaders to part with tickets to the Kansas-Oklahoma State men's basketball game Feb. 27.
Her game plan: Give the seats to a visiting squad of economic-development officials looking for the ultimate Lawrence experience, wedged in among 16,300 fans in Allen Fieldhouse for a clash of conference rivals.
On the roster of visitors are 10 of the country's top site-selection consultants -- people the country's top corporations hire to seek out and recommend possible sites for multimillion-dollar expansions.
The KU-OSU game just could be Lawrence's ultimate recruiting tool.
"We are looking for any tickets at Allen Fieldhouse," said Parman, working to cajole donated ducats this week from members of the Lawrence-Douglas County Economic Development Board. "Maybe this is the game you don't take your wife, or that special client or customer. We really need your help. This is an awesome opportunity. We just need to physically get them in the fieldhouse."
Once inside, the consultants, their guests and officials from the Kansas Department of Commerce and the Kansas City Area Development Council will get a tour of the fieldhouse, sport new Jayhawk sweatshirts and see public evidence of the drive, commitment and excellence that characterizes KU basketball and the community it calls home.
Chuck Warner, president of US Bank in Lawrence, didn't think twice before donating two of his bank's six tickets to the cause. He said he knew the value of making a good first impression and the potential for a good return on his investment: dozens of new jobs and millions of dollars in new construction.
Besides, he couldn't go anyway.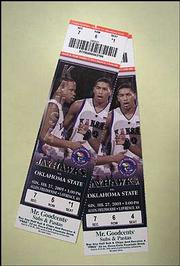 "I'd love to be able to say that I'm giving up my seats for economic development," Warner said, laughing. "But this really is important. These people are influential. When you have an opportunity to put a good face on for the community, you ought to take advantage of it.
"These people are right in the middle of what goes on in that whole economic development (arena), so we want to be good to them."
Parman and her cohorts have secured commitments for a dozen of the 27 tickets needed for the consultants and their retinue. But the search for the precious tickets isn't getting any easier.
Tickets to the game already are listed for sale on the Web for $855 each. And the seats Parman hopes to fill typically aren't in the rafters -- US Bank's are in the chair-back section at center court, between the two team benches.
Parman knew finding the tickets wouldn't be easy. The Kansas Department of Commerce chose the weekend specifically because of the Oklahoma State game, a clash of KU's preseason No. 1 team against a school that last year made the Final Four.
Such a draw makes it easier to convince premier consultants to spend a weekend on the road. Upon arrival, they'll eat nice meals, visit with prominent officials and ride a bus through residential areas, office parks and industrial centers, looking for a sense of what makes the Lawrence area stand out among the 370 other metro areas on their lists of potential sites.
"We'll make sure they feel like Jayhawks for a day," Parman said. "Their job is to eliminate communities for projects. Now we have the opportunity to show them what we have and no other Kansas community has this opportunity. We hope it gets us in the game for a project in the future."
Copyright 2018 The Lawrence Journal-World. All rights reserved. This material may not be published, broadcast, rewritten or redistributed. We strive to uphold our values for every story published.