Bob Georgeson doesn't have much free time.
His planner is packed with notes, reminding him about board meetings, upcoming presentations and other activities. All together, Georgeson is involved with 19 different organizations and boards in Lawrence and Douglas County.
This year he is being recognized for his continued contribution to the community as the recipient of the Citizen of the Years Award from the Lawrence Chamber of Commerce.
"I love the involvement," said Georgeson, 74, a retired banker. "It's sort of selfish in a way, because you get to know so many people."
Of his many commitments, Georgeson said some of his more special organizations included DCCCA, O'Connell Youth Ranch, the Lawrence Memorial Hospital Endowment Assn. and Douglas County Bank. He serves on the board of those four and many others.
Georgeson was one of five people who started DCCCA 27 years ago as the Douglas County Citizens Committee on Alcoholism. In 1989, it changed its name to DCCCA Inc. The nonprofit organization, which provides alcohol and drug abuse counseling and information, grew from one employee to 500 employees in Kansas and Colorado, and is headquartered Lawrence.
Georgeson also serves as the chairman of the Financial Affairs Committee of the LMH Endowment Assn. and is helping with a $5 million capital campaign to help fund the hospital's expansion project. Georgeson's past activities include volunteering with the United Way, Cottonwood Inc. and the Lawrence Jaycees.
Coming from Lenora, a small town in western Kansas, Georgeson said he learned about the importance of volunteering and giving back to the community from his family. His late wife, Greta, also enjoyed volunteering.
Georgeson moved to Lawrence after he graduated from Washburn University in 1954. He said he wanted to go into the lending part of banking and, after taking the advice of others in the business, he took a job at a sales and finance company to speed up the process. Georgeson later worked at the Mercantile Bank for 32 years, moving up to become executive vice president and chief operating officer.
In 1993, Georgeson became president and executive officer of Douglas County Bank and worked there until retiring in 2001. Even though he no longer works at the bank, Georgeson said his skills occasionally came in handy with various organizations.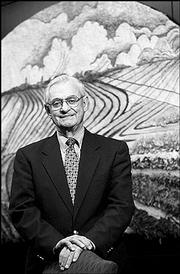 "As a banker, they always want to make you the treasurer," he said.
Georgeson has continued to leave his fingerprint on the community through his volunteer efforts, said Cathy Lewis, the chamber's vice president for membership.
"Someone who continues to contribute after retirement is somebody who genuinely cares about the community and wants to make a difference," she said.
Despite his widespread involvement, Georgeson said, he continued to receive calls from those asking him to help raise money for one organization or to serve on the board of another.
"There's a point when I need to start cutting back on this," he said.
But that point hasn't quite arrived yet.
"I really enjoy meeting new people," he said. "And I'm not ready to watch 'The Price is Right' all day."
Copyright 2018 The Lawrence Journal-World. All rights reserved. This material may not be published, broadcast, rewritten or redistributed. We strive to uphold our values for every story published.