Indianapolis — Rasheed Wallace walked to the bench for the last time Thursday night and delivered a blunt statement to the Indiana Pacers and their fans.
"They can't beat us," he screamed.
If the Pacers didn't understand after losing in last season's Eastern Conference finals, they certainly do now: There is no home-court advantage in this rough-and-tumble rivalry.
Chauncey Billups led a balanced scoring attack, finishing with 20 points and five assists as the Detroit Pistons defeated the Pacers, 88-76.
Since the Nov. 19 brawl between Pacers players and Pistons fans after Ben Wallace shoved Ron Artest, the teams have met twice in Indianapolis. Both times, the Pistons have won.
Indiana won in its only trip to Detroit and returns March 25 to the Palace of Auburn Hills for the first time since the infamous melee.
It was the Pistons' second straight victory. For the Pacers, who were playing nearly at full strength for the first time since the brawl, it was a big blow. They've lost three straight and five of seven to drop under .500 for only the second time this season.
"I've got to stay positive with this group," coach Rick Carlisle said. "There are a lot of games to play, and this team will get better."
As expected, the game was full of emotion.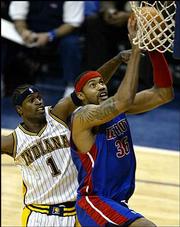 Indiana fans booed loudly when the Pistons were introduced and booed again each time Ben Wallace scored. The game also was marred by five technical fouls, and fans jawed with Pistons players, sometimes playfully, in the closing minutes.
Ben Wallace finished with 10 points and 11 rebounds. Rasheed Wallace added 13 points and seven rebounds, and Tayshaun Prince scored 16 points and had seven rebounds primarily against Stephen Jackson, who is trying to get back into game shape after serving a 30-game suspension for his role in the brawl. It was just Jackson's second game back.
"We tried to go at Steve Jack because we knew he didn't have the legs," Rasheed Wallace said. "We had to get 'Tay' involved early, and I think that's what sparked it for us."
Afterward, Reggie Miller denied a broadcast report that he had told Pacers officials and teammates that he would retire after this season.
"If and when, I'll have the first conversation with Charles (Barkley) and Cheryl Miller," he said, referring to his sister.
Spurs 90, Kings 80
San Antonio -- Manu Ginobili scored 25 points, and Tim Duncan added 20 for San Antonio, which fended off a late rally. The Kings, who lost to San Antonio by 30 points Sunday at home, made it more of a contest despite playing without Peja Stojakovic, who sat out because of back spasms.
The Kings cut San Antonio's lead to 78-77 when Chris Webber stole the ball and passed to Brad Miller for a layup with 5:06 left. The Spurs then went on an 8-0 run.
Bulls 101, Bobcats 93
Chicago -- Jannero Pargo scored all 14 of his points in the fourth quarter, and Andres Nocioni added 17 points off the bench to lead Chicago over Charlotte. Eric Piatkowski added 16 points for Chicago, which extended its winning streak to five games. The Bulls have won 12 of their last 13 games and eight straight at home.
Copyright 2018 The Associated Press. All rights reserved. This material may not be published, broadcast, rewritten or redistributed. We strive to uphold our values for every story published.