Leaders at Lawrence Chamber of Commerce see plenty of reason for positive thinking in the year ahead.
Rising chamber membership, increasing community employment and expanding business-attraction prospects are adding to an already upbeat atmosphere inside the chamber offices at 734 Vt.
"I am very optimistic about going into 2005, simply because we've made so much headway and strengthened our partnerships in this community long before this year began," said Shirley Martin-Smith, serving as chairwoman of the board for 2005. "All indications are that the economy's getting better, but we -- the staff of the chamber -- never let the idea that the economy wasn't doing very well affect us and keep us from moving forward with putting together such a solid team to do things in this community that we haven't done before.
She catches her breath, literally and figuratively.
"People are engaged," she said, "and they're excited."
Whether it's silly or serious -- from crafting makeshift rafts for the Chamber Leadership Lake Challenge or divining conclusions from the 2004 Business Retention Report -- chamber leaders know they have plenty of work ahead to build on the successes of 2004:
The community saw 475 new jobs created, up from 313 a year earlier.
The Convention and Visitors Bureau and its Lawrence Sports Corp. landed commitments for bringing thousands of visitors and competitors into the Lawrence area during the upcoming summer -- for national championships of collegiate cycling, softball tournaments, a reformatted triathlon and more.

The chamber boasts a membership roster of 1,750, the payoff from a focused, high-energy membership drive in October that had dozens of volunteers working phones and arranging in-person meetings to tout the values, responsibilities and effectiveness of chamber membership.
But the tangible successes are only part of the story.
Chamber leaders feel confident about the future knowing that they're behind efforts to build a consensus and seek solutions to challenges that face not only the business community, but the community as a whole.
"From the candidate school to biotech, we're showing ourselves and we're presenting ourselves to the community in ways other than we have before," said Lavern Squier, chamber president. "We're really trying to be about values and substance in ways we haven't before."
Specifically, the chamber is driven by six core values adopted by its board of directors: member driven, community focused, trustworthy, responsible, respectful and fair.
Those values are behind a handful of "core issues" to be addressed through chamber efforts this year. Among them: affordable housing, industrial land and open space, collaborative vision/decision-making, work-force development, financing for educational excellence, environmental awareness, infrastructure development and health care accessibility.
"Everybody's very supportive," Squier said. "We're doing what's good for Lawrence and Douglas County."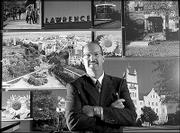 Copyright 2018 The Lawrence Journal-World. All rights reserved. This material may not be published, broadcast, rewritten or redistributed. We strive to uphold our values for every story published.