Services for Mary Louise Boggs, 87, Lawrence, will be at 1 p.m. Sunday, Feb. 6, at her home.
Mrs. Boggs died Thursday, Jan. 27, 2005, at her home.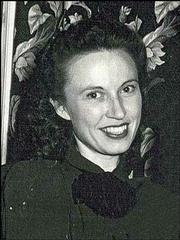 She was born June 15, 1917, in Sedalia, Mo., the daughter of Annie E. Northcutt. She moved from Topeka to Lawrence in 2000.
Mrs. Boggs worked as a nurse at Meninger psychiatric center and Topeka State Hospital.
She married Charles R. Boggs on Aug. 15, 1940, in Topeka. He died in 1992.
A son, Charlie Boggs, died earlier.
Survivors include two daughters, Carole Boggs, Lawrence, and Nancy Maendele, Kerrville, Texas; a son, Bruce Boggs, Hermosa Beach, Calif.; four grandchildren; and two great-grandchildren.
The family suggests memorials to Heart of America Hospice, sent in care of Warren-McElwain Mortuary.
E-mail condolences may be sent to info@warrenmcelwain.com, Subject: Boggs.
Copyright 2018 The Lawrence Journal-World. All rights reserved. This material may not be published, broadcast, rewritten or redistributed. We strive to uphold our values for every story published.