Kansas University's baseball team might have been the only one in the Midwest practicing outside Thursday afternoon, but not even the cold weather could dash the smiles several Jayhawks flashed while talking about their season-opener Feb. 4 in sunny Hilo, Hawaii.
"It's pretty cold, there's no doubt about it," a bundled KU coach Ritch Price said.
He will start his third season at Kansas with a six-game series against the Vulcans in Hilo and Kona, Hawaii, before heading to Palo Alto, Calif., for a three-game series against Stanford.
"We get a chance to get outside every day, a chance to play at game speed," said Price, who returns five starters and 22 letterwinners off a squad that went 31-31-1 last season. "We're just really fortunate we have this opportunity where most teams in this region don't."
Price eagerly talked about the seven hitters who all hit .300 or better last year for a team that led the Big 12 Conference in batting at .316, but probably even was more animated while talking about his revamped pitching staff during Thursday's informal media day at Hoglund Ballpark.
"If you're going to compete in the Big 12 Conference, you have to have the pitching," Price said. "We've made significant progress in the product we've put on the field the last two seasons, but it all goes back being able to pitch all nine innings on the mound.
"But in the three years I've been here, this is the most solid we've been."
Last year the Jayhawks (7-19 Big 12) had plenty of power at the plate, but were short-handed on the mound. Price said he likely will use a rotation starting with left-handed senior Mike Zagurski, who was 4-4 last season with 70 strikeouts.
Junior Kodiak Quick, a right-handed transfer from Stanford, will move from the bullpen, where he posted a 3.62 earned-run average in 16 appearances last season for the Cardinal, to the rotation.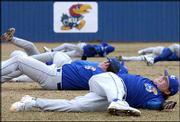 Senior right-hander Clint Schambach (4-3), sophomore lefty Sean Land (4-2) and 6-foot-5 freshman Logan Murphy, a left-hander from Vacaville, Calif., round out the starter staff. Junior Don Czyz, who set a KU appearance record last season with 33, moves into the role of closer.
"College baseball is so very offensive. And last year, when we did a great job of scoring, our pitchers kind of let us down," said Zagurski, who will try to fill the void of the graduated Ryan Knippschild, who was KU's ace with a 7-8 record and team-high 79 strikeouts.
"Sometimes we thought our pitching was OK, but we didn't hit, so this year we'll hopefully be able to put a complete package out there."
In order to do that the Jayhawks also will have to find a way to replace some powerful bats in the heart of their order.
Ryan Baty and Matt Tribble are gone to graduation, and Travis Metcalf, who would have been a senior this season, was drafted in the 11th round by the Texas Rangers.
Metcalf holds KU's single-season (18) and career (29) home run records. Tribble committed just two errors in 226 chances in right field and is first in all-time at bats at 825. Baty, who signed a contract with the Tampa Bay Devil Rays, had a 21-game hit streak and also set a career mark for doubles with 68 and fell just a hit short of tying Darryl Monroe's career record of 274 hits.
The trio's numbers will not easily be replaced, said KU catcher Sean Richardson, a second team all Big 12 member and team MVP last year.
"I don't think any one player can fill their spots," said Richardson, who finished sixth in the Big 12 with 69 RBIs and belted 12 home runs. "We have a lot of guys who have that chance to step up their role and become the next Travis Metcalf, Ryan Baty or Matt Tribble."
Baty's younger brother, Matt, a junior outfielder, was the only Jayhawk to make first-team all-Big 12 last season after hitting .344 and scoring 62 runs.
Price's oldest son, Ritchie, broke the school-record for hits by a sophomore with 84 and made the second-team all-Big 12 at shortstop. He will be joined at second base by his brother, Ryne, a freshman standout from Free State, who hit 27 home runs this summer for the San Luis Obispo Firestone Rangers, an Amateur Baseball Federation team in California.
Senior Andy Scholl will move from the outfield to replace Baty at first base, and freshman Erik Morrison, from Arroyo Grande, Calif., will move in for Metcalf at third.
Junior-college transfer Gus Milner, who comes via Hutchinson Community College, is slated to start in center, while A.J. Van Slyke, the son of former major leaguer Andy Van Slyke, will start in right.
Not only will Kansas have to fill the holes in the batting order and solve its pitching woes, but also survive the "most difficult schedule" in program history. Among the highlights are four games against rival Wichita State, and two games against Mississippi State in the NBC Classic in Starkville, Miss.
If the Jayhawks can put everything together, then Ritch Price is confident this year's squad could make school history by becoming the first team to post a third consecutive 30-win season.
"We have laid the foundation for us to take another step forward in becoming competitive in the Big 12," Price said, "and becoming an NCAA Tournament team, which has been our goal from the day I started here."
Copyright 2018 The Lawrence Journal-World. All rights reserved. This material may not be published, broadcast, rewritten or redistributed. We strive to uphold our values for every story published.