Small businesses are the key to more local jobs and a better economy.
That's the message Curt Clinkinbeard and Kansas University Small Business Development Center are trying to spread to businesses and entrepreneurs in Lawrence. Clinkinbeard, regional director of the center, said the center saw a significant increase in interest from startup businesses and existing businesses in 2004.
The center served 312 clients in 2004, an increase from 206 clients in 2003. The number of hours of free counseling provided also increased from 773 hours to 1,262 hours.
Clinkinbeard said spreading the word about the center and networking with business owners played a big role in the increase.
"I think we got a lot more involved with getting into the community," he said. "Those relationships have solidified quite a bit in 2004."
He said hours spent counseling clients increased because Maggie Bornholdt, consultant at the center, assumed more counseling duties of startup businesses. Bornholdt said she worked with more than 100 entrepreneurs or small business owners individually and with Clinkinbeard last year.
The regional center provides entrepreneurs and small business owners with resources and information to start businesses or increase their success in Lawrence. It does so with one-on-one counseling and group seminars.
Clinkinbeard said the center followed Small Business Administration's definition of "small" -- a business with as many as 500 employees still is considered small, he said. And with more than 2,000 small businesses in Lawrence, there are more businesses the center could help, Clinkinbeard said.
"While our numbers are up, we're still just scratching the surface of what we could be doing," he said.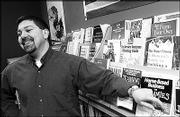 In 2004, Clinkinbeard teamed up with KU in an effort to help local businesses. Students in a business class formed consulting teams and did in-depth research and counseling for five business.
"It was a really nice collaborative effort of a business class and the center," Clinkinbeard said.
Clinkinbeard said the one area he'd like to improve on is staffing. With only two full-time employees, the center is considerably understaffed, he said.
But despite staffing issues, Clinkinbeard said he was confident the center's momentum would continue in 2005.
"The cumulative effect of lots of little companies is what creates an economy and job opportunities for people in the community," he said.
Copyright 2017 The Lawrence Journal-World. All rights reserved. This material may not be published, broadcast, rewritten or redistributed. We strive to uphold our values for every story published.