Atlanta — Jarrett Jack walked toward the opposite end of the court, struggling to catch his breath. The Georgia Tech guard remembered his two missed free throws in overtime, along with a critical turnover, that allowed Wake Forest to tie it in regulation.
He was determined to put an end to a long, grueling night and get the 22nd-ranked Yellow Jackets back on the right track.
Jack came through, making two free throws with 4.4 seconds left to give Georgia Tech a 102-101 overtime victory over the fifth-ranked Demon Deacons on Thursday night. The Yellow Jackets snapped a three-game losing streak in the Atlantic Coast Conference.
"I told myself that I had to come through for my team," said Jack, who scored 23 points. "The mark of a great team is being able to put the past behind you."
The Demon Deacons had the last shot, but Chris Paul missed at the buzzer. He also had a chance to win it at the end of regulation, but that attempt fell off the rim, too.
"Coach said get the ball and try to get to the basket," Paul said. "I just missed it."
It was a thrilling game, featuring all sorts of twists and turns. Georgia Tech (12-5, 3-3) built a 17-point lead in the first half, but Wake Forest (16-3, 4-2) got back in it. Eric Williams led the Demon Deacons with 27 points, but Paul managed only eight on 2-of-11 shooting.
"We take pride in stopping great players," said Will Bynum, who scored a career-high 30 points for the Yellow Jackets and spent time guarding Paul. "He's a great player, so we try to play him as physically as possible. Don't let him get into rhythm. Be there in his face every time."
Georgia Tech's student body stormed the court after the final miss, setting off a raucous celebration that lasted several minutes. Weary players from both teams struggled just to make it to their locker rooms.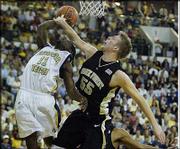 The Yellow Jackets started the season in the top five, but three straight ACC losses sent them tumbling in the rankings. They had to bounce back from a stunning loss Saturday at home to Virginia Tech.
"This may have been make-or-break for our season," Bynum said. "If we had lost this game, it could have destroyed our confidence."
It was a game that didn't want to end, stretching on for nearly three hours and leaving both teams huffing and puffing. Georgia Tech's Isma'il Muhammad hobbled off the court because of severe leg cramps, but the pain subsided after he was injected with fluids. He finished the game with both arms wrapped in gauze.
Before his clinching free throws, Jack walked almost to the opposite foul line, gaining a few precious seconds to catch his breath.
No. 11 Arizona 91, No. 10 Washington 82
Tucson, Ariz. -- Channing Frye scored 14 of his 18 points in the second half, and No. 11 Arizona made 38 of 40 free throws to beat No. 10 Washington, taking over first place in the Pac-10. The Wildcats (17-3, 7-1) made 31 straight from the line between Hassan Adams' miss of the front end of a one-and-one with 9:42 left in the first half and Mustafa Shakur's miss of the second of two free throws with 33 seconds to play.
No. 15 Michigan State 64, Michigan 53
East Lansing, Mich. -- Maurice Ager scored 18 points, and No. 15 Michigan State started the second half strong before coasting past Michigan. The Spartans (13-3, 5-1 Big Ten) have won 11 of their last 12, and 11 of 12 against Michigan (12-8, 3-3). Michigan State plays No. 1 Illinois on Tuesday at home after a nonconference tuneup against Oakland on Saturday. Dion Harris and Courtney Sims each had 12 points for the Wolverines.
No. 21 Cincinnati 74, South Florida 48
Tampa, Fla. -- Eric Hicks had 19 points and 11 rebounds to lead No. 21 Cincinnati past South Florida, the Bearcats' 14th consecutive win in the lopsided Conference USA series. Cincinnati (16-3, 5-1) rebounded from Saturday's 74-70 loss to No. 5 Wake Forest to retain a share of first place in C-USA.
Copyright 2018 The Associated Press. All rights reserved. This material may not be published, broadcast, rewritten or redistributed. We strive to uphold our values for every story published.