These aren't the best of times for Kansas Children's Service League.
Last week, the 112-year-old charity learned it had lost its $15 million foster care contract with the state and that its $33.6 million adoption contract would be reduced to $3.5 million.
"At this point, we don't understand what happened," KCSL President and CEO William "Clark" Luster said.
Welfare officials gave the four-year, foster care contract to Olathe-based KVC Behavioral Health Care, also known as Kaw Valley Center, which already provides foster care services in Douglas, Johnson, Wyandotte, Miami and Franklin counties.
Effective July 1, the new contract now gives KVC responsibility for caring for another 500 children in a 24-county region that includes Topeka, Manhattan and Salina.
"We are pleased with the confidence that (Kansas Department of Social and Rehabilitation Services) has shown in our abilities, our programs and our staff," said Sherry Love, president of the permanency division at KVC.
"At the same time, we have great respect for KCSL and it's staff. They have a long history of providing quality services to children and Kansas."
Layoffs
More than 200 KCSL employees are expected to lose their jobs, though some -- it's unclear how many -- are likely to find work with KVC.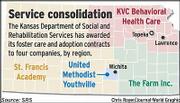 "The state is going to lose a lot of good, experienced people," said Gary Endicott, president of KCSL's governing board.
Under the new contracts, the state's foster care contractors -- KVC, St. Francis Academy, United Methodist Youthville, and The Farm Inc. -- will be paid to handle adoptions also.
KCSL's adoption responsibilities will be reduced to recruiting and training families willing to adopt children in foster care.
"Never in our wildest dreams did we think the changes in the adoption contract would be as dramatic as they turned out to be," Endicott said. "The effects of losing top-level talent could be devastating."
In fiscal 2004 -- July 1, 2003, to June 30, 2004 -- KCSL finalized a record 627 adoptions.
"It's not like we fumbled the ball," Endicott said.
Competitive bids
Kansas privatized its family preservation, foster care and adoption services in 1997 in hopes of children either spending less time in foster care or being adopted sooner.
To ensure competition, contracts are put up for bids every four to five years.
Sandra Hazlett, director of children and family policy at the state Department of Social and Rehabilitation Services, said KCSL has, in fact, performed well.
"A number of factors went into the decision to go with Kaw Valley. There wasn't one thing," Hazlett said. "It's just that Kaw Valley submitted a superior proposal."
Hazlett confirmed that KCSL's bid was slightly lower in cost than KVC's.
"Again, cost was just one of several factors," she said. "It wasn't the only factor."
State reports show that in fiscal 2004, KVC and The Farm had the most success in moving children through the system. KCSL's performance was average or slightly below.
Luster pinned most of the agency's problem on its operations in Topeka, where workers have struggled to win the confidence of juvenile court judges.
"Our outcomes in Manhattan and Salina have been above average," Luster said. "Topeka has been the problem, and it's getting better."
Luster said he was at a loss to understand why KCSL fared so poorly.
"We lost two contracts, we've gone from $48 million to $3.5 million. No other contractor took that big a hit," he said. "So if we're average, I don't see why (SRS) couldn't have let Kaw Valley take over one of the other average (foster care) performers, so that we didn't end up losing both" contracts.
Staying in business
Luster said KCSL's losses would not force the agency out of business.
"We don't own a bunch of buildings. Our physical assets are minimal," he said. "Probably 85 to 90 percent of what we spent was spent on staff."
And KCSL is not totally dependent on the foster care and adoption contracts. It also runs a Head Start program in western Kansas, and parent training and child abuse prevention programs.
In 2001, United Methodist Youthville was forced into bankruptcy after losing its foster care contract for western Kansas to St. Francis Academy. Lutheran Social Services closed its doors in 2002, two years after losing the adoption contract to KCSL.
Luster confirmed that KCSL had been "several million dollars" in debt "two or three years ago. That was before I got here."
Luster, who lives in Lawrence, joined KCSL in January 2003, replacing Bob Hartman, who resigned.
KCSL's finances, Luster said, are now in the black.
"We're operating on a surplus of 2 to 3 percent," he said.
Smooth transition?
Luster and Endicott each declined to say whether KCSL would bid on future contracts.
"We plan to go forward," said Endicott. "But we need to be careful."
Endicott said he feared the transition between KCSL and KVC would not be smooth.
"We'll do whatever it takes to make sure families and children do not suffer during the transition. We want it to go well," he said. "But I've been through some layoffs in the private sector, and when you're looking at this many people losing their jobs, there's no way there won't be problems."
Copyright 2018 The Lawrence Journal-World. All rights reserved. This material may not be published, broadcast, rewritten or redistributed. We strive to uphold our values for every story published.