Wellsville — The Top Gun Tournament will crown a champion other than Baldwin High for the first time since 2001.
Eudora erased a five-point deficit late to defeat the three-time defending champion, 40-35, in high school girls basketball Thursday night.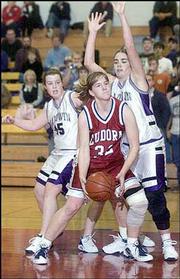 Eudora closed the game on a 10-0 run to advance to the final round. Cardinals coach Cara Kimberlin credited her team's defense after a lopsided fourth quarter.
"We outscored them 13-4. I would say that's defense," Kimberlin said. "You're going to get points, but you're not very often going to get Baldwin to come down the floor and turn the ball over."
Baldwin struggled from the field and committed too many turnovers. The Bulldogs shot 2-for-12 in the first quarter and only made one field goal in the fourth quarter.
Bulldogs coach Eric Toot said his team's offense down the stretch was indicative of the trouble his team had experienced all season.
"We've been in an offensive slump all year, it wasn't the last six minutes," Toot said. "We're shooting about 30 percent as a team and about 55 percent from the line."
Baldwin controlled most of the game after the first quarter and led 35-30 with just more than two minutes left. But then Eudora began creeping back.
The Cardinals tied the score at 35, then Eudora's Michelle Deluna made a wide-open three-pointer. Baldwin brought the ball back upcourt and its primary three-point threat, Kelsey Verhaeghe, shot an airball from the perimeter.
Eudora's Kayla Moyer was fouled on the next possession and made both of her free throws, and Baldwin could not score in the remaining 90 seconds.
Eudora will play Ottawa on Saturday for the tournament title.
| | | | | | | |
| --- | --- | --- | --- | --- | --- | --- |
| Eudora | 12 | 7 | 8 | 13 | -- | 40 |
| Baldwin | 7 | 15 | 9 | 4 | -- | 35 |
Eudora
-- Michelle Deluna 13, Erin Kracl 12, Kayla Moyer 8, Carrie Lister 3, Alissa Hamilton 2, Joni Ridinger 1, Emily Gloshen 1.
Baldwin
-- Katelyn Miles 11, Kelsey Verhaeghe 10, Amanda Vander Tuig 8, Amy Craig 4, Ellie Meinen 2.
Copyright 2018 The Lawrence Journal-World. All rights reserved. This material may not be published, broadcast, rewritten or redistributed. We strive to uphold our values for every story published.