She's started her own business, served as mayor and led the state's largest business organization as it became the fastest-growing organization of its kind in the country.
But don't think Shirley Martin-Smith is ready for a break.
This month the business owner starts her one-year term as chairwoman of the Lawrence Chamber of Commerce, an organization working to advocate for business and community prosperity through dozens of programs, hundreds of volunteers and, ultimately, all 1,750 members.
"We have a lot of work to do," she said.
Martin-Smith is counting on the chamber to continue its growth as a "member-driven" organization dedicated to tackling tough issues and finding the common ground necessary to find answers.
Whether it's working to attract businesses or boost affordable housing options, Martin-Smith simply is happy to be able to operate in a role where her efforts can show results where it matters most: at home.
"I'd be remiss if I didn't say I was pretty humbled," said Martin-Smith, who took over for Gene Meyer on Jan. 1. "This is my adopted city, and Lawrence and the community have been a partner with me for 28 years. I'm just at home here."
Martin-Smith is president of Martin-Smith Personnel Services Inc., which owns Adecco franchises in Lawrence, Topeka and Wichita. Her businesses provide employment for about 1,700 people each year, most through temporary placements.
She opened her first temporary-staffing office in Lawrence in 1977. Ten years later she had expanded into full-time staffing, finding full-time jobs for individuals and filling vacancies for companies.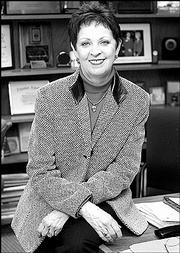 Such experience with the labor market gives Martin-Smith real-world insights into issues that involve training, wage pressures, recruitment and other employment matters.
It also keeps her close to the people who need work and who rely on businesses to help them feed, clothe and otherwise care for themselves and their families.
Martin-Smith Personnel Services and Adecco already have 14 full-time employees spanning Lawrence, Topeka and Wichita, and the improving economy has her planning to add employees in each market this year.
Such job growth in major metro areas pleases Martin-Smith beyond her own success. In June, she ended her one-year term as chair of the Kansas Chamber of Commerce, which recently achieved the distinction of growing faster than any other state chamber organization in the country.
The state chamber spent much of its time lobbying lawmakers on behalf of chamber members, from businesses large and small, on statewide issues.
"The state chamber's goal is to be the best state in which to do business," she said.
In Lawrence, the chamber's goals are expanded: The Lawrence chamber wants to go beyond creating and nurturing a thriving business environment; it also wants to encourage a livable community, one in which all segments of society are working together toward common goals.
Whether it's creating more jobs, encouraging more affordable housing or working to improve educational opportunities for all Lawrence-area residents -- from elementary school through specialized employment training -- chamber members and officials will be expected to help lead the way.
"With leadership from Lavern (Squier, chamber CEO) and the vice presidents and the staff, we are already engaged in these issues," Martin-Smith said. "We didn't just pick 'em. We're already there. And we're committed to being there."
Through the years, Martin-Smith has served in a variety of leadership capacities at the chamber: vice chair of operations, vice chair for small business and chair of the selection committee that hired Squier.
She's also been active in community government, having served as a Lawrence city commissioner from 1989 to 1993. Her term included a year (1990) as mayor.
Kansas UniversityEmployees: 9,555Lawrence Public SchoolsEmployees: 1,687Pearson Government SolutionsEmployees: 1,540City of LawrenceEmployees: 1,397Lawrence Memorial HospitalEmployees: 1,160Hallmark Cards Inc.Employees: 881K-Mart Distribution CenterEmployees: 627Baker UniversityEmployees: 623The World CompanyEmployees: 584Berry PlasticsEmployees: 500Amarr Garage DoorsEmployees: 441DCCCA CenterEmployees: 425Community Living Opportunities Inc.Employees: 384Douglas CountyEmployees: 365Allen PressEmployees: 360Lawrence Paper Co.Employees: 300Hamm Cos.Employees: 245Bert Nash Community Health CenterEmployees: 220Haskell Indian Nations UniversityEmployees: 212Sauer DanfossEmployees: 185KPL, Western Resources Co.Employees: 163AstarisEmployees: 158DST Inc.Employees: 135Del Monte FoodsEmployees: 134Golf Course Superintendents Association of AmericaEmployees: 125Source: www.lawrencechamber.com
Copyright 2018 The Lawrence Journal-World. All rights reserved. This material may not be published, broadcast, rewritten or redistributed. We strive to uphold our values for every story published.