Children's toys reflect life, so it is not surprising many of the battery-operated toys made in Japan just after World War II represented Americans doing their jobs.
The Japanese used scrap metal like tin beer and soda cans left behind by soldiers to make automated, battery-operated toys from the late 1940s to the 1960s. Men represented in the toys were bartenders, soldiers, policemen, cyclists, drunks, chefs, farmers, American Indians, cowboys, clowns, drummers or Grandpa rocking in a chair. Women toys were sewing, typing, wheeling a baby buggy, swinging a hula hoop or dancing.
The toys were not meant to suggest any virtues, so it is not surprising that there was also a crapshooter presiding over a table with dice. The age of the toys is not as important to collectors as condition and rarity. An unusual figure with many types of movement is best. A box adds value.
Q: A friend gave me a wooden table years ago. It has two small drawers on each side and a wider drawer in the middle below a convertible top that's the same width as the center drawer. The lift-top leans back and is mounted with a large mirror. The only mark I can find is the wood-burned signature "Bodart" in one drawer.
A: You have a "dressing table" that can be used as a desk when the mirror is down. The small drawers can store combs, brushes and cosmetics, or pens, pencils and paper. Bodart Furniture Co. was in business in Grand Rapids, Mich., from 1949 to 1973. Bodart made quality reproductions of antique European furniture forms, including desks, tables, chests and upholstered pieces.
Q: My father recently gave me a china washing set that belonged to his parents. The set includes a large basin and pitcher, a covered chamber pot, a smaller pitcher and a soap dish and cover. The pieces are white with delicate gold-colored trim. The mark on the bottom of each is "The Edwin M. Knowles China Co." I believe the set is about 100 years old. What do you think?
A: Edwin M. Knowles opened a china-manufacturing plant in Chester, W.Va., in 1900. A second plant was built in Newell, W.Va., in 1913, but the company's offices were in East Liverpool, Ohio, until 1931. The Edwin M. Knowles China Co. continued working until 1963. A toilet set probably dates from the early years that the company was in business, but it might have been made as late as the 1930s. You can date your set by comparing the design of the mark with marks the company used over the years.
Q: Your column about children's sand pails made me dig out my own little pail from the 1939 New York World's Fair. It's only 3 inches tall and has no manufacturer's name. The lithographed colored pictures on the pail include the Trylon and Perisphere, and the Transportation, Aviation and Federal buildings. Across the pail, there's a white banner with red lettering that reads "New York World's Fair." Does this have value?
A: Your small sand pail was a souvenir candy container made for the 1939 fair. Collectors of souvenirs from that fair would pay about $100 for it.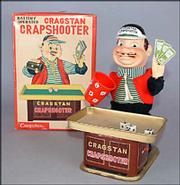 Q: Can you help me determine the age of my tin lithographed advertising sign? It pictures a woman wearing a white shirt and apron standing at a kitchen counter. On the counter, there's a ham and a cookbook resting on white butcher's wrap labeled "Mistletoe Meats" and "Established 1906." The title of the picture, printed across the bottom of the frame, is "What Every Woman Knows." The sign is 38 by 25 inches.
A: Mistletoe meats is not a familiar brand today. "What Every Woman Knows" was a 1908 play by J.M. Barrie, the author of "Peter Pan." The play is still produced once in a while and has been made into a movie at least twice. It is likely that the advertiser took the title of the play as the title for your ad. Your sign does not advertise a famous brand, but it probably dates from before World War I, and it has interesting graphics. If the sign is in excellent condition or better, it could sell for a few hundred dollars.

Tip
Do not keep wine and spirits in lead-crystal decanters. The lead will leach out into the wine. It is unhealthy to drink liquid with lead.
Current prices are recorded from antiques shows, flea markets, sales and auctions throughout the United States. Prices vary in different locations because of local economic conditions.Nabisco Golden Anniversary pin, 1898-1948, celluloid, picture of young boy, 1 1/2 inches, $35.Fulper Pottery bowl, beige glaze exterior, turquoise glaze interior, 2 handles, 9 1/2 inches, $150.Bohemian glass goblet, engraved architectural view on blue cut-to-clear ground, gilt trim, 5 3/4 inches, $345.Tootsietoy Fire Department set No. 5211, badge, helmets, ladder, ax, ambulance, original box, $475.Bing & Grondahl figurine, Asiatic pheasants standing on millet, 17 inches, $865.Vogue Ginny doll, Kindergarten Afternoon series, blue sleep eyes, 1953, 7 1/2 inches, $945.Hooked rug, large house and "The Spirit of St. Louis" airplane, rectangular, brown, green, beige, dark-brown trim, 39 x 63 inches, $975.Tiffany silver spatula, Chrysanthemum pattern, square, inscribed "Psychology," 9 inches, $1,035.Limbert bookcase, single door, leaded glass, keyed-through tenons, hand-cut iron hardware, paper label, 55 x 24 x 14 inches, $4,755.Painted tin coffeepot, red ground, floral design in yellow, green, black and white, straight spout, curved handle, scrolled finial, 8 inches, $5,460.
Copyright 2018 The Lawrence Journal-World. All rights reserved. This material may not be published, broadcast, rewritten or redistributed. We strive to uphold our values for every story published.