Sauer-Danfoss Co. is starting the year with nearly twice as many employees as it did a year ago, as the manufacturer of hydraulic power systems for off-road equipment pumps up production to meet rising demand.
And it's bracing for even more.
The company's plant in the East Hills Business Park is running out of floor space, now that it has added a relocated production line and added the employees and support staffers necessary to keep up.
The bustling activity has proven so all-encompassing that Keith Folkmann, director of plant operations, hadn't stopped to think about the significance of going from about 100 employees to 185 in a single year.
But with the economy continuing to rebound and the company's core markets -- home construction, commercial construction, road construction and ag production -- heating up, Folkmann finally is pleased to report that Sauer-Danfoss should continue hiring line workers, office personnel and contractors well into 2005.
"We're very happy to have reached this point in our growth," said Folkmann, who has led the company's Lawrence operations since the plant opened in January 1999. "We recognize that through the recession, we weren't meeting our original projections, but we are at the point of being delighted that we can share with the community that we have not only reached our projections, but exceeded them.
"Hopefully that will continue."
Such qualified optimism -- Folkmann expects plant employment to surpass 200 later this year -- is becoming more pervasive among Lawrence's manufacturers as the country's economic recovery becomes more apparent, said Lynn Parman, vice president for economic development at the Lawrence Chamber of Commerce.
Last year started slowly, Parman said, but interest in business expansions picked up during the third and fourth quarters. Amarr Garage Doors already is spending $18 million to expand its production and warehouse space in East Hills, with plans for adding 80 employees during the next two years.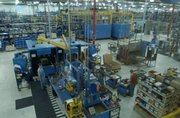 This month Parman and her staff already have started work on another nine potential business expansions.
"We're experiencing a flurry of activity in our office from businesses interested in locating here, as well as existing business expansions," Parman said. "I think that there is a lot of confidence out there in the economy, particularly in the manufacturing sector.
"Sauer-Danfoss is a great success story, and there are a lot more out there that will happen in 2005."
Sauer-Danfoss occupies the plant that opened in January 1999 as Sauer-Sundstrand, a $20 million investment backed with a property-tax abatement and expected to create 150 jobs by the end of 2000. The company later extended its deadline for reaching the jobs goal to 2002.
Before last year, the plant's peak employment had been 122 jobs at the end of 2001, just as the effects of the 9-11 terrorist attacks were hobbling the U.S. economy.
Then in October 2003, the company announced plans to move a production line to Lawrence from its plant in Ames, Iowa. The company had expected the move to add 45 jobs in Lawrence; ultimately, 10 of the jobs were filled by workers transferring from Ames, while the rest were taken by area workers.
More good news: Strong demand for the plant's gears and piston products carried throughout the year, rather than tapering off from its traditional peak during the first six months, Folkmann said.
The plant soon found itself adding another 47 employees, all of them drawn from Lawrence and other communities in and around Douglas County.
In all, the plant's production ended the year up 32 percent -- with a little room to spare.
"Today, we have not reached the capacity of this plant," Folkmann said. "With more economic recovery ... we still have room to add more work and, subsequently, more jobs."
Copyright 2018 The Lawrence Journal-World. All rights reserved. This material may not be published, broadcast, rewritten or redistributed. We strive to uphold our values for every story published.