Berlin — German Chancellor Gerhard Schroeder expressed shame Tuesday over the horrors of the Nazi era, acknowledging that Adolf Hitler's regime enjoyed wide support among Germans and promising that his country will always try to keep alive the memory of the Holocaust.
Across Europe, commemorations ahead of the 60th anniversary of the Red Army's liberation of the Auschwitz death camp on Jan. 27, 1945, were tinged with the pain of memories -- and concern that anti-Semitism lives on.
"I express my shame in the face of those who were murdered -- and, above all, you who survived the hell of the concentration camps," a somber Schroeder told an audience at a Berlin theater that included Auschwitz survivors.
"The overwhelming majority of Germans living today bears no guilt for the Holocaust, but they do bear a special responsibility."
Some 1.5 million prisoners, most of them Jews, perished in gas chambers or died of starvation and disease at Auschwitz. In all, 6 million Jews were killed in Nazi camps, along with several million others, including Soviet prisoners of war, gypsies, homosexuals and political opponents of the Nazis.
Alluding to the fact that the Nazis were democratically elected, Schroeder said the genocide could not be reduced to "the old talk of 'the demon Hitler."'
"The evil of Nazi ideology did not come from nowhere," Schroeder said. "The brutalization of thought and the loss of moral inhibitions had a history; above all, Nazi ideology was desired by people and manmade."
Leaders across Europe marked the anniversary with warnings that the battle against anti-Semitism continues. Inaugurating his country's new Holocaust memorial, French President Jacques Chirac called for stronger efforts to quell a rise in attacks on Jews in France.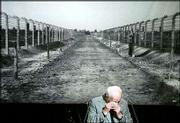 "Anti-Semitism is not an opinion. It is a perversion -- a perversion that kills," said Chirac, who bowed before a wall inscribed with the names of 76,000 Jews sent to Nazi death camps from France. Only 2,500 of the deportees survived.
A former Auschwitz prisoner, Kurt Julius Goldstein, speaking in Berlin, recalled being forced onto a "death march" westward away from the advancing Soviet army, saying that fewer than 500 prisoners in the 3,000-strong column survived.
Auschwitz "is the biggest cemetery in the whole world," Goldstein said. "None of them has a memorial stone -- the Nazis wanted them to be forgotten. We have a duty to prevent that."
Copyright 2018 The Associated Press. All rights reserved. This material may not be published, broadcast, rewritten or redistributed. We strive to uphold our values for every story published.