A high school diploma wasn't Crystal Farrar's only new possession when she walked in front of friends and family at graduation. The 2003 Wellsville High School graduate also was sporting bigger breasts -- only three days old and her graduation gift to herself.
"I always told everybody, 'When I graduate, I will have boobs,'" says Farrar, now 20 and a junior at Ottawa University. "I didn't think it was going to happen, but it did."
Using some of her savings and graduation money, Farrar spent $4,200 to go from a small A-cup to a small D-cup. In doing so, she achieved a three-year-long dream.
"It was something I wanted to do for myself," Farrar says. "I said, 'I want this, and I'm going to get it.'"
Farrar was one of 11,326 girls 18 and younger who got breast implants in 2003 -- a dramatic increase from the 3,872 who had the procedure done the year before, the American Society for Aesthetic Plastic Surgery reported.
Kansas follows the trend
Although Kansas teens aren't flocking to plastic surgeons like they do on the coasts, the number of those wanting and getting breast implants has increased in the past few years, says Dr. J.B. Moore, a plastic surgeon at Olathe Medical Center.
Moore, who performed Farrar's surgery, performs a few implants a day but said he does only about one a year on teenagers.
Dr. Scott Thellman, a plastic surgeon at Lawrence Plastic Surgery, says it's important to look at the maturity level of the patient because many teenagers are not ready for such a big decision. For that reason, and because many teens still are developing, Thellman's cut-off age is 18 for cosmetic surgery.
Of the 75 to 100 implant surgeries Thellman and Dr. John Keller perform a year, about 5 percent are on teenagers, Thellman says.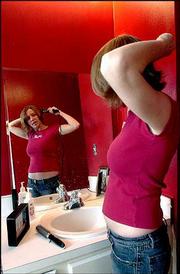 "Age isn't everything, but you need a certain level of emotional maturity to make an informed decision about a procedure of that level," he says. "Many 16- and 17-year-old girls don't have that level of emotional maturity."
Thellman visits with breast implant patients at least twice before scheduling a date for surgery. During those visits, he spends much of the time talking to the patient, answering questions and discussing the procedure. He also encourages his patients to try on special bras to see how they will look after surgery and shows them photos of other patients with similar situations.
For Farrar, the decision to get implants wasn't one she made lightly. She started thinking about it during her sophomore year of high school but didn't get serious until the following year. Using the Internet, Farrar researched implants, doctors and prices in Kansas before making a decision.
Farrar says the opportunity to gain more self-confidence was the main reason she wanted bigger breasts.
"It affected my social life. I didn't really talk to guys," she recalls.
Even though she had a lot of guy friends, Farrar didn't date much -- until she met Paul, a 2000 Wellsville High graduate. The two began dating in March of 2003, just two months before Farrar had the procedure. They are now married and expecting their first child.
Farrar says Paul, like some of her friends and family, didn't think she needed breast implants -- he thought she was perfect as she was, she says.
3,872Girls 18 and younger who got implants (for cosmetic and noncosmetic reasons) in 200211,326Girls 18 and younger who got implants (for cosmetic and noncosmetic reasons) in 2003249,641Total women who got implants (includes cosmetic and noncosmetic) in 2002280,401Total women who got implants (includes cosmetic and noncosmetic) in 2003$9.4 millionAmount spent on breast augmentation in 2003$6.5 billionAmount spent on all surgical procedures in 2003 (doesn't include nonsurgical procedures like botox, chemical peels, collagen, etc.)Source: American Society for Aesthetic Plastic Surgery
A growing concern
Teens have always followed the looks and fashions of celebrities in an effort to gain acceptance from their peers, but they're taking it too far with plastic surgery, says Judy Smith, state director of Concerned Women for America of Kansas.
The women's organization works on national and state levels to bring biblical principles into public policy, focusing on such issues as education, religious liberty and definition of the family.
"We always find it troubling when someone wants to change their body to gain self-esteem or approval," Smith says.
Perception is everything for young girls, who try to emulate celebrities they see in movies, on TV and in music videos, Smith says. The problem with teens wanting cosmetic surgery, she continues, is that they fail to look at long-term effects and consequences.
Risks for women with implants include the potential for scarring and rupture, as well as difficulties with breast-feeding and interference with mammograms. Leakage or undesirable results also can lead to additional surgical procedures.
"They don't think it through to the end of the road," Smith says. "They're into instant gratification."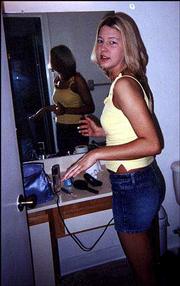 Thellman says an increase in TV shows like "The Swan" and "I Want a Famous Face" have brought more exposure to the process of plastic surgery. He says patients are more informed when they walk in the door, but they often have unreasonable requests or expect more than they should from surgery.
"TV has created some unrealistic expectations about the degree of life change after cosmetic surgery," he says. "I get uncomfortable when people think it's going to change their life."
Smith says she raised two girls and told them to focus on inner beauty. She says teens today should concentrate on their positive attributes instead of trying to correct so-called flaws with cosmetic surgery.
"You can spend half your life trying to create something that society wants," she says. "Find your strengths and develop those."
Implants not just for looks
Even though Thellman and many surgeons draw the line at 18 for cosmetic surgery -- the FDA also advises against it -- they don't hesitate to put implants in underdeveloped teens under 18. Thellman performed surgery on a 15-year-old girl last year because she had one large breast on one side and almost nothing on the other.
Ali Dankenbring says she had asymmetric breasts because of a rib deformity caused by Poland's syndrome. The 18-year-old Lawrence High School student says that after puberty her left side was an A-cup, but her right side hadn't developed at all.
Dankenbring got a breast implant on her right side one month after she turned 16. She's now a full B-cup in both.
"There was a lot more confidence with my body and myself," Dankenbring says. "I didn't have to worry about someone judging me because I only had one boob."
Long-term effects
While plastic surgeons find it difficult to predict whether women will continue to want bigger implants in the future, they agree that teens who want implants now should think carefully before acting.
"This is not a new hairstyle. This is real surgery, and they're going to have these implants for a long time," Thellman says.
Because implants are mechanical devices, he says, they have the potential to wear out and eventually leak. Most manufacturers will replace the saline-filled implants at no additional cost, Thellman says, but that doesn't include surgeons fees and other costs.
Thellman tells patients there's a 1 percent chance of rupture each year that she has her implants. After 10 years, there would be a 10-percent chance and after 20 years, a 20-percent chance, he says.
"Is that exact? No. But it's a reasonable rule of thumb," he says.
The thought of having to replace her implants doesn't bother Farrar, who says life is better with them than without. She says she carries herself with more confidence and is more willing to talk to strangers and people at school.
"I was really, really happy," Farrar says of looking at her new breasts for the first time after surgery. "I would do it over again."
Copyright 2018 The Lawrence Journal-World. All rights reserved. This material may not be published, broadcast, rewritten or redistributed. We strive to uphold our values for every story published.