Topeka — Some legislators are using a new buzzword -- "efficiency" -- when pondering how best to respond to a Kansas Supreme Court order to improve education funding.
That's not surprising, since the justices themselves suggested school administrative costs are worth rethinking.
But to many, the E-word is merely taking the place of the dreaded C-word -- consolidation, a term that still conjures up images of angry communities upset at the prospect of losing a school.
No matter what it's called, the general concept hasn't changed: Plenty of legislators still believe the state's 301 school districts are bloated with too many superintendents and central office staff. And plenty of school officials still object, arguing real savings will require more than just merging districts.
"The way you save money now is not superintendent salaries. It's by closing buildings," said Goddard Supt. Charles Edmonds.
Legislators have introduced bills in recent years to force consolidation, but all have failed. Faced with the court's April 12 deadline to improve education funding, at least one senator believes it's worth another try.
"I think we just have to eliminate the small districts," said Sen. Phil Journey, R-Haysville.
Consolidation is an issue in other states, too. Arkansas eliminated 57 small districts to satisfy a 2002 state Supreme Court ruling on education funding. Nebraska legislators are considering a bill to force elementary-only districts to consolidate with K-12 districts.
Kansas will lose one school district in July, when Nes Tre La Go, based in Utica, with 28 students, dissolves. Four other districts have fewer than 100 students.
Since 2002, 67 schools have closed statewide, including elementary schools in Coffeyville, Lawrence and Johnson County's Shawnee Mission district. Sixty-seven districts have superintendents who serve two districts or who are also building principals.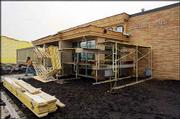 Some educators also think the state needs fewer districts and schools. In 2003, Supts. Ken Kennedy, of Pratt, and Sharol Little, of Manhattan, proposed cutting the number of districts to as few as 40. They argued such consolidation could generate up to $480 million in savings -- partly by closing school buildings.
"As the demographics change in our state, other state services and agencies have changed to meet the new needs," Kennedy said. "Why should it be different for education?"
Kennedy and others believe legislators can encourage consolidation by offering financial incentives and by changing how the state distributes its $2.7 billion in aid to schools. The state now provides extra money to small districts because they can't take advantage of economies of scale in their operations.
But Johnson City Superintendent Lee Tarrant, who led the Atwood district when it merged two years ago with neighboring Herndon, said for consolidation to occur smoothly, "The communities have to buy in."
In the Atwood-Herndon merger, discussions began three years before the merger occurred, and officials looked at sharing services to keep the districts independent. Parents were already looking to other districts -- even into Nebraska -- to provide a better education.
Yet some legislators, educators and parents remember how consolidation in the 1960s, forced by legislators, led to bitter feelings in some communities. Some bad blood is more recent.
Edmonds went through a consolidation fight in the 1980s as superintendent in the Basehor-Linwood district. Emotions ran high when the district closed its high school in Linwood and that community lost a piece of its identity.
"I can't tell you how many times I've been in court or the number of people who hated me," Edmonds said. "They weren't bad people. They just had something to lose."
A similar fight is occurring in the southeast Kansas district of Erie. Board members voted in December to close high schools in St. Paul and Thayer and send students to Erie. Parents challenged the board's decision in district court and have a restraining order to keep the schools open.
"We can do so much more by bringing together all the high school students," Superintendent Randy Corns said. "But it does affect the communities. It will take years to heal the scars."
Terry Diskin, a former school board member from St. Paul, said that community's education heritage dates to 1847, when Jesuits taught Indians at the Osage Mission.
Three of Diskin's six children are still in school. He said closing the two high schools would devastate their communities and force a number of parents to pull their children out of the district.
"It will kill Neosho County," he said.
But Erie school board president Kelly Coover, who defeated Diskin two years ago, said closing the schools will allow the district to offer a more well-rounded education to all its students. Still, he understands the emotions the closings have provoked.
"People in our district are very passionate about their school," said Coover, who plans to leave the board after his term ends in two years. "This is one of those things -- I will always be 'the SOB who closed my school.'"
Copyright 2018 The Associated Press. All rights reserved. This material may not be published, broadcast, rewritten or redistributed. We strive to uphold our values for every story published.