Norman, Okla. — Kevin Bookout never had beaten Texas in his career at Oklahoma, so he did everything he could to make sure the Sooners didn't lose again.
Bookout had 18 points -- including a wild three-point play in the final two minutes -- and pulled down 13 rebounds as No. 18 Oklahoma beat 15th-ranked Texas, 64-60, Saturday for its ninth straight win. The Sooners had lost five in a row in the Red River rivalry.
"This is my first time to beat Texas," said Bookout, a junior forward. "I love it."
The Sooners (15-2, 4-0 Big 12 Conference), who trailed most of the game, got some breathing room on Bookout's basket in a crowded lane and Drew Lavender's three-pointer.
Bookout found himself triple-teamed and tossed the ball toward the rim, where it bounced in. His ensuing free throw gave Oklahoma a 59-55 lead with 1:56 to play.
"Once I got fouled, I just wanted to throw it up there and I prayed it'd go in," Bookout said.
Said Texas coach Rick Barnes: "I don't understand how he made that flip over his head and drew a foul, but I give him credit for it. He's a heck of a player."
After two free throws by Sydmill Harris, a guard who started in place of ineligible Texas forward P.J. Tucker, Lavender hit a three-pointer from the left wing over the outstretched arm of a Texas defender to put Oklahoma up by five.
Brad Buckman hit one of two free throws on the other end, and Daniel Gibson pulled the Longhorns within 62-60 after Terrell Everett missed the front end of consecutive one-and-one free-throw situations.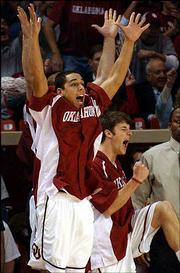 Lawrence McKenzie, who scored 15 points, hit two free throws with 7.7 seconds left to seal the win for Oklahoma.
Bookout missed all three losses to Texas last year with a shoulder injury. He wasn't hampered at all this year, getting eight offensive rebounds.
"I feel like I'm in such good condition right now that I can do a lot of things that last year I couldn't do," Bookout said. "I can get up and down the court better. I move laterally better, I can jump, I can get to the ball and keep it alive. Things like that, I feel I can do a lot better."
Taj Gray added 12 points for the Sooners before fouling out with 8:35 to play, and Lavender finished with 11.
Gibson had 18 points to lead Texas (15-3, 3-2), while Jason Klotz scored 14 and Buckman added 12.
No. 5 Okla. State 82, Baylor 53
Stillwater, Okla. -- Joey Graham scored 24 points to help Oklahoma State rebound from its loss to Texas.
Freshman JamesOn Curry added 14 points, including 10 in the final 2:16, as the Cowboys (14-2, 4-1 Big 12 Conference) won the first game at the newly named Eddie Sutton Court.
The floor, installed in 1938 at Gallagher-Iba Arena, was named after Oklahoma State's coach last week. Sutton has 769 victories, good for seventh all-time.
Tim Bush led the Bears (9-6, 1-3) with 19 points and Tommy Swanson added 15.
Colorado 54,
Iowa State 52, OT
Ames, Iowa -- Andy Osborn hit a three-pointer with 15.9 seconds left in overtime to give Colorado the lead, and the Buffaloes held on through a frantic finish to beat Iowa State for their first Big 12 victory.
Colorado (9-7, 1-4 Big 12) pulled it out despite going scoreless the final 4:46 of regulation, committing 20 turnovers and shooting just 33 percent. The Buffaloes offset those sordid numbers with a 54-35 rebounding advantage, including 22 offensive rebounds that led to a 21-11 edge in second-chance points.
Iowa State (8-7, 0-4) failed on chances to win it both at the end of regulation and overtime and lost for the fifth straight time. It was the Cyclones' 10th straight overtime loss in conference play since a victory over Nebraska in 1995.
Glean Eddy led Colorado with 12 points and 11 rebounds, while Chris Copeland scored 10 for the Buffaloes, who ended a 13-game losing streak at Iowa State.
Curtis Stinson led Iowa State with 15 points, and Will Blalock scored 14.
Missouri 80, Nebraska 70
Columbia, Mo. -- Linas Kleiza had a career-high 31 points and 10 rebounds, and Missouri held Nebraska to five points in an eight-minute span of the second half. Thomas Gardner added 17 points, and Jimmy McKinney had 13 for Missouri (10-8, 2-3 Big 12), which ended a three-game losing streak -- the last two by a combined 36 points. Missouri has beaten Nebraska 10 straight times at home, and coach Quin Snyder is 10-2 against the Cornhuskers. Joe McCray had 16 points, and reserve Aleks Maric had 14 for Nebraska (8-7, 2-3), which failed to capitalize on a two-point loss at No. 2 Kansas University on Wednesday.
Texas A&M; 65, Kansas State 51
College Station, Texas -- Acie Law recovered from an early ankle injury to score 17 points, and Antoine Wright added 14, leading Texas A&M.; Wright started a 14-4 run midway through the second half with a three-pointer, and Law finished it with a jumper from the corner to end a two-game losing streak for the Aggies (13-3, 2-3 Big 12). Freshman Joseph Jones had 12 points and eight rebounds, and Bobby Leach chipped in with 10 points and six assists to improve A&M;'s home record to 12-1 this season. Jeremiah Massey led Kansas State (11-4, 1-3) with 20 points and was the only Wildcats player to score in double figures.
Copyright 2018 The Associated Press. All rights reserved. This material may not be published, broadcast, rewritten or redistributed. We strive to uphold our values for every story published.