New York — Hundreds of airline flights were canceled Saturday and fleets of road plows were warmed up as a paralyzing snowstorm barreled out of the Midwest and spread across the Northeast with a potential for up to 20 inches of snow driven by 50 mph wind.
Storm warnings were posted from Wisconsin to New England, where the National Weather Service had blizzard warnings in effect through today. On Saturday, snow was falling across a region stretching from Wisconsin and Illinois to Virginia and the New England states.
One man died after falling through ice on a pond in Ohio, where two others died of apparent heart attacks while removing snow, authorities said.
Temperatures in Maine fell to 36 below zero at Masardis, and Bangor dropped to a record low of 29 below. Meteorologists predicted gusts up to 50 mph would push wind chill readings to 8 below zero in New York and New Jersey.
In New York City, nearly 7 inches of snow had fallen in Central Park by Saturday evening. Almost 9 inches were reported on the eastern tip of Long Island, the National Weather Service said.
The snow wasn't a problem for 29-year-old college student Maya Tudor.
"I like the snow. It slows down the city and blankets a lot of the unpleasantness," she said. "You never see New York this calm. It's an event."
Up to a foot of snow had fallen in Wisconsin and Michigan, and wind gusted to more than 60 mph across Iowa. As much as 18 inches of snow was forecast in northern New Jersey and accumulations of up to 20 inches were possible in parts of New England and the New York City area, the weather service said. A foot was likely in northern sections of Ohio and Pennsylvania.
While crews in the Midwest labored to remove what already had fallen, highway departments in the Northeast readied hundreds of plows and salt-spreading trucks. New York City canceled all vacations for its sanitation workers and called people in on their days off to handle the snow. Kennedy International Airport had machines capable of melting 500 tons of snow an hour.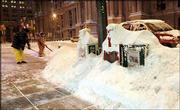 If 20 inches of snow fell in New York, the cost of cleanup could hit $20 million, but Mayor Michael Bloomberg said that was a problem for another day.
The blowing snow caused frustrating delays as airlines called off flights.
By noon at Philadelphia International Airport, the storm had already wiped out about 25 percent of the normal load of 1,100 daily arrivals and departures.
About 400 flights were canceled Saturday at Chicago's O'Hare International Airport and dozens more were called off at the city's Midway Airport. More than 200 people stayed the night at the two airports.
Copyright 2018 The Associated Press. All rights reserved. This material may not be published, broadcast, rewritten or redistributed. We strive to uphold our values for every story published.