At first, Isbelia Sanquinetti didn't want to go to Small World, an English-language school for foreign women living in Lawrence.
She and her husband, Nelson, a retired physics professor from Venezuela, had been living here five years. Her English was already good.
"But the lady who told me about it was so nice, I didn't want to tell her no, so I decided to go and see for myself," Sanquinetti said.
"That was in March of 2003 -- we had been here since 1998," she said. "For me, at that moment, was when my best times began. I've been going ever since. I've told them I don't think they'll ever be rid of me. It's such a very beautiful program."
Small World's spring semester enrollment will be from 9 a.m. to 11 a.m. Tuesday and Thursday at First Presbyterian Church, 2415 Clinton Parkway. Registration is $10.
Classes begin the following week, lasting from 9 to 11 a.m., Tuesdays and Thursdays at the church. Day care and transportation are provided.
Between 110 and 115 students -- some from as far away as Japan, Ukraine, Saudi Arabia, Peru and Chile, others as close as Mexico -- are expected to enroll.
"It's a life-changing experience," said Small World volunteer director Kathy Mulinazzi.
Now in its 36th year, Small World began after several Kansas University professors returned from Cumana, Venezuela, where they had spent two years setting up an American-style exchange program for science and math students at the Universidad de Oriente.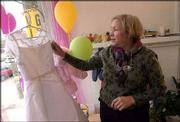 The professors' wives -- Hilda Enoch, Mavis Wiseman, Mimi Montgomery and Georgiana Torres -- knew firsthand what it was like to live in a foreign country and not speak the language, in their case, Spanish.
After returning to Lawrence, the group started Small World to teach their counterparts English and to help them assimilate.
"There had been an incident in which a child of one of the Latin American professors ended up in the emergency room," Wiseman said. "It turned out the child was malnourished because the mother hadn't been able to figure out how to feed her kids with American food."
Wiseman gives Enoch credit for starting Small World. "(Enoch) said, 'You get the place, I'll get the people,'" recalled Wiseman. "So I went to my church and got permission to use the building, and things went from there."
Though Small World is housed at the First Presbyterian Church, it is not affiliated with the church.
"We have to be culturally sensitive," Mulinazzi said. "We don't want to do anything to impose our views on them or to put them in a position of feeling like they have to defend their beliefs."
Small World is for women and their children only.
"In some cultures, women and men could not be in a class together," Mulinazzi said. "So for some, if we opened the program up to men, the women wouldn't come, which defeats the purpose."
About 80 percent of the participants are wives of graduate students at KU. The others are here for any number of reasons.
"A lot of these women are away from home for the first time," Mulinazzi said. "They're stuck in an apartment all day, they don't know the language, they don't have a car, they can't drive. They may be pregnant for the first time.
"Just having the chance to meet another woman who's experiencing the same thing makes such a big difference," she said. "I'm always amazed at the bonds and the friendships that come out of being in the same class together."
Copyright 2018 The Lawrence Journal-World. All rights reserved. This material may not be published, broadcast, rewritten or redistributed. We strive to uphold our values for every story published.